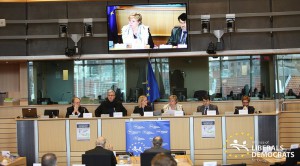 This paper was presented at the European Parliament on 18 November 2015 by Fouad Hamdan, the Executive Director of the Rule of Law Foundation, which supports the Naame Shaam campaign. It was part of conference titled "Countering Extremism and Improving Governance in the MENA Region" hosted by Alliance of Liberals and Democrats for Europe (ALDE).
——
Ladies and gentlemen,
I will start with the current solutions presented at the Vienna conference to end the war in Syria. I will then continue with a critique of the Russian-Iranian positions on the one hand, and of the US approach on the other. I will end with what we at Naame Shaam believe the US, the EU and their allies must do to bring peace and stability to Syria.
The Vienna Process
Last weekend in Vienna, world and regional powers, including the US and Russia, agreed in principle on a Russian plan for a transition and reform process in Syria of up to 18 months, which will supposedly be followed by democratic elections. Formal talks between the regime in Damascus and the Syrian opposition are supposed to start in early January 2016. There was talk of a ceasefire and of a Syrian-led process that would, within six months, establish an inclusive and non-sectarian transitional government to lead this process.
Besides the vague talk about a ceasefire, the key differences between Russia and Iran on one side and the US and its allies on the other include:
Which Syrian opposition groups would count as 'moderate opposition' allowed to participate in the political process, and which would be classified as 'terrorist groups'.
The fate of Syrian President Bashar al-Assad. The US and its allies say he must step down, while Tehran and Moscow insist that he has the right to stand for elections.
The Iranian regime has repeatedly said a political solution to the war in Syria must be "Syrian in nature", meaning with al-Assad on board. Moscow is now repeating the same demand. Both have also repeatedly said the international community should join the al-Assad regime in its alleged battle against "terrorists" in Syria, who by their definition include not only Daesh (so-called Islamic State or ISIS) but also other Islamists and Free-Syrian Army rebels supported by the US and its allies.
Iran's deputy foreign minister for Arab and African affairs, Hossein Amir-Abdollahian, made it clear in March 2014: "Everyone has now come to understand that Syria (meaning the Assad regime) is battling takfiri terrorism." Takfiri is a term used to describe Sunni Moslem jihadis. The was the Assad regime's line ever since the outbreak of the Syrian revolution in March 2011.
Here we need to understand who runs the show in Regime-held areas in Syria and why.
It is no longer accurate to describe the war in Syria as a 'conflict' between Syrian rebels on the one hand and Bashar al-Assad's regime forces 'supported' by Sepah Pasdaran (Iranian Revolutionary Guards) "advisors" and some Hezbollah fighters on the other. Since 2012, all major battles in Syria are being fought and directed by Sepah Pasdaran and Hezbollah Lebanon, rather than the al-Assad forces.
Between 1,000 and 2,000 Sepah Qods commanders, the foreign arm of Sepah Pasdaran, lead and coordinate all military operations in Syria. Sepah Qods is headed by General Qassem Soleimani. About 30,000 Shia Iraqi and Afghan Shia fighters, as well as 5,000 to 8,000 Hezbollah ones, are under Soleimani's command in Syria.
Sepah Qods also established, trains, arms and controls the Syrian regime militia known as the National Defence Forces (NDF) or the shabbiha. It was modeled on the Iranian Basij force and its experience in suppressing Iran's own dissident movements, particularly the 2009 pro-democracy protests known as the Green Movement. Sepah Qods fully controls the NDF, despite occasional conflicts related mostly to corruption.
All the Russian propaganda about dismantling the NDF and merging it with the regular army is just a smokescreen. The shabbiha have participated in many of the recent battles in the south and the north in coordination with Russian and Iranian forces.
We have to understand that not a single barrel bomb or missile dropped on urban areas, not a single massacre or sectarian cleansing crime committed by Syrian regime forces and militias could take place in Syria without the knowledge and complicity of Iranian and Hezbollah commanders.
Moreover, the Syrian regime's economy is totally dependent on Iranian financial aid. In addition to weapons and fighters, the Iranian regime has been providing the Syrian regime with financial loans and credit lines worth billions of dollars. The Assad regime would have collapsed a long time ago if it were not for the enormous military and economic support provided to it by the Iranian regime since March 2011.
Therefore, from being historically mutually beneficial allies, the Iranian regime is now effectively an occupying force in the regime-held areas of Syria, now with Russian air cover. The Assad regime is little more than a puppet in the hands of Sepah Pasdaran; Gen Soleimani is the de facto ruler of Iranian-occupied Syria.
Syria: Iran's Vietnam and Russia's Afghanistan
In summer 2015, Gen. Soleimani, with a green light from Iranian Supreme Leader Ayatollah Ali Khamenei, visited Moscow twice and convinced Putin to send troops and warplanes to Syria in order to avert an Iranian defeat in Syria.
We know by now that Soleimani promised Putin that Russian firms will be awarded business deals worth billions of dollars once economic sanctions against Iran are lifted when the Iran nuclear deal is implemented in 2016. We also know that Putin, via his Syria adventure, is pressuring the EU and the US to lift economic sanctions against Russia imposed after its annexation of Crimea and occupation of eastern Ukrainian. We also know that Putin is waging wars in Ukraine and Syria to divert the attention of the Russian people from economic hardship, corruption and dictatorship.
But why is the Iranian regime so determined to save Bashar al-Assad's regime at any cost?
Remember the UN Security Council resolution after the Israel-Hezbollah war in Lebanon in 2006?
Following this war, marine vessels under a UN mandate have been preventing Iranian arms shipments from reaching Hezbollah via Lebanese ports (in line with UN Security Council resolution 1701 of 11 August 2006). Since then, the Iranian regime has been shipping arms and ammunition to Hezbollah Lebanon via Syrian ports. From there they are illegally transported into Lebanon. Syria has been the lifeline of Iran's army in Lebanon, i.e. Hezbollah, since 2006.
The heavy Iranian involvement in the war in Syria is driven first and foremost by the strategic interests of the Iranian regime in keeping arms shipments flowing to Hezbollah in Lebanon via Syria, so as to keep Hezbollah a strong deterrent against any attack on Iran's military nuclear programme. This will ensure maintaining a strong deterrent against any possible Israeli or Western attacks on Iran's nuclear facilities. This 'line of defence' is meant to secure the Iranian regime's survival.
Other Iranian 'lines of defence' include numerous Iranian-supported Iraqi Shia militias, the Iranian-supported Palestinian groups Hamas and the Islamic Jihad in the Gaza Strip (along Israel's southern border) and the Iranian-supported Huthi militia in Yemen (along the southern border of Saudi Arabia).
It's all about Hezbollah
If the al-Assad regime falls, Iranian arms shipments to Hezbollah are likely to stop and Hezbollah would no longer be the threatening deterrence against Israel that it is now. The Iranian regime would therefore feel more vulnerable; it may even have to give up its nuclear dreams forever. All available resources in Iran (human, economic, military) have therefore been mobilised to achieve this strategic aim.
Let us be very clear: Hezbollah is Sepah Pasdaran in Lebanon, and the Iranian involvement in Lebanon and in Syria is mainly about deterrence and creating the best possible situation for the Iranian regime to be able to build its nuclear bomb one day in order to guarantee its survival. Have no illusion that the Iranian regime will ever give up this nuclear dream easily.
You might have seen some recent media reports about disagreements between Russia and Iran, particularly about Hezbollah's role in Syria and its future in Lebanon. Well, we believe this is just propaganda and another smokescreen, like the talk about restructuring the NDF. Hezbollah has participated in all military operations in Syria since the Russian military intervention started, in direct coordination with Russian and Iranian military commanders.
In light of the above – and in light of the refugee crisis and the recent terrorist attacks by Daesh in Egypt, Lebanon and France – this is what Naame Shaam suggests the US and its European and Arab allies should do:
First and foremost, the US policy of 'slowly bleeding' Iran, Hezbollah and Russia in Syria must end. The rationale behind this policy appears to be an assumption that a prolonged proxy war with the Iranian (and now Russian) regime in Syria, coupled with economic sanctions and falling oil prices, would eventually lead to weakening the Iranian and Russian regimes and therefore force them to end their destabilising policies in Lebanon, Syria, Iraq, Yemen and elsewhere.
Some even hope that the above-mentioned factors would even lead to the collapse of the Iranian regime (i.e. 'winning the Syria war in the streets of Tehran'). This is, at best, wishful thinking. Sepah Pasdaran and the paramilitary Basij force in Iran have shown that they can, and will, ruthlessly crush any internal dissent, and that they can 'bleed' for much longer, so to speak.
The US administration has so far been unwilling to intervene in Syria in any decisive manner against the Assad regime, Sepah Pasdaran and Hezbollah. The 'slowly bleeding' policy has been translated as giving Syrian rebels just enough support not to lose the war, but not enough to win either. The US decision in September 2014 to support the Syrian opposition is limited to fighting Daesh. There is no mention of Sepah Pasdaran and Hezbollah.
Liaising or collaborating with the Iranian regime and its Shia militias in the fight against Daesh in Iraq and Syria, whether tacitly or openly, is understandably antagonising the Sunni majority in the region. More and more Sunnis in Iraq, Syria, Lebanon, Libya and elsewhere are supporting Daesh and al-Qaeda-linked groups like Jabhat al-Nusra, and joining their ranks, not necessarily because they believe in these groups' ideologies, but because of the years-long oppression and marginalisation that they have suffered at the hands of the Iranian-backed Shia army and militias in Iraq and the Iranian-backed regime of Bashar al-Assad in Syria.
Perceptions that the US and its allies are 'not interested' in stopping or challenging the growing sectarian dominance of the Iranian regime in the region will only increase the popularity of Daesh and make its defeat more difficult. This cannot be in the interest of the US and its allies.
Moreover, the 'slowly bleeding' policy is cynical because it is being implemented at the disproportionate expense of the people of Syria and the wider region. It is leading to more instability and extremism in the Middle East and beyond. It is leading to terrorist attacks in the Middle East and Europe. And it is exacerbating the refugee crisis in the Middle East and in Europe.
What we hear behind closed doors in Western capitals is that the US and its allies are now "watching Putin fail in Syria'. This is basically a continuation of the cynical policy of slowly bleeding Iran and Hezbollah in Syria.
The US, the EU and their allies have a moral as well as a political obligation to stop the bloodbath in Syria and to stabilise Iraq and Lebanon. Aerial bombing campaigns against Daesh are leading nowhere. Asking US-trained Syrian rebels to fight only Daesh has not worked and will never do. Syrians want to fight Daesh, al-Qaeda, al-Assad, Sepah Pasdaran and Hezbollah at the same time. The Syrian revolution has more than one enemy or counter-revolutionary force. We have to understand that and act accordingly.
Legally speaking, the US, the EU and allies allies should finally treat the war in Syria as an international conflict that involves a foreign military occupation by the Iranian and Russian regimes and a liberation struggle by the Syrian people against this foreign occupation. This will not only change the narrative, it will also have important legal implications.
The strategy should be:
Push for and impose a fundamental shift in the foreign policy of the Iranian regime, without being dragged into a direct military confrontation with Iran.
Pressure Iran not only to give up its military nuclear dreams, but to end its destabilisation policies in the Middle East. This includes arming militias in Syria, Lebanon, Iraq, Yemen and so on.
Pressure Russia with more diplomatic isolation and economic sanctions so that Moscow disengages itself from Iran and al-Assad, joins the fight against Daesh and becomes part of the solution in Syria, not part of the problem.
Support the Syrian opposition more seriously.
The goals should be:
Defeating Daesh and all al-Qaeda-linked groups.
A withdrawal of all Iranian forces and the foreign militias they control from Syria (Hezbollah, Shia Afghan and Iraqi militiamen).
The removal of Bashar al-Assad and his inner circle from power.
Supporting a process of disarmament, national reconciliation and transitional justice led by Syrians and supervised by the international community that would lead to a free and democratic country where the rule of law prevails.
The tactics:
Refer the situation in Syria to the International Criminal Court (ICC) in The Hague to investigate all war crimes and crimes against humanity committed in Syria, including Iran's and Hezbollah's role.
Hold the Iranian and Russian regimes accountable for the repeated breaches of their duties as an occupying force in regime-held areas in Syria, in line with the Fourth Geneva Convention.
Arm and train enough moderate Syrian rebels, not only to fight Daesh and al-Qaeda-linked groups, but also Syrian and Iranian regime forces and militias in Syria.  A strong Free Syrian Army – supported with all necessary means, and not only led half-heartedly from behind by the US – would be able to liberate Syria from jihadists, the Assad regime and all foreign forces.
Put all your weight behind helping the Syrian opposition develop into a professional and effective representative of the Syrian people.
This political and military support should be provided through one unified channel supervised by the US and the EU, rather than leaving it to various regional allies with conflicting agendas.
The US, the EU and their allies should put on the table a UN Security Council resolution under Chapter VII imposing no-fly zones as well as safe and unhindered humanitarian access to conflict zones and people in need throughout Syria.
If Russia and China veto this, then the US, the EU and their regional allies should act unilaterally by securing rebel-held areas, imposing no-fly zones and protecting the Syrian people from war crimes, crimes against humanity, genocide and ethnic cleansing. They should act in line with the Responsibility to Protect norm (R2P):
A state has a responsibility to protect its population from genocide, war crimes, crimes against humanity and ethnic cleansing.
The international community has a responsibility to assist a state to protect its citizens.
The al-Assad regime and its Iranian and Russian supporters have manifestly failed to protect the Syrian population from mass atrocities and all diplomatic measures have failed. The international community therefore has a responsibility to intervene through coercive measures such as economic sanctions and military intervention.
Conclusion
The US is the only global power capable of leading an alliance against the destabilising policies of the Iranian regime and against Daesh and al-Qaeda. No other country can mobilise the necessary resources and exert the required political and military pressure.
Naame Shaam believes that only a serious threat to use force against Iran in Syria will force the Iranian regime to end its destabilising policies in Syria, Iraq, Lebanon and Yemen and give up, once and for all, its quest for the nuclear bomb.
Any other 'soft' approaches, containment or 'slowly bleeding' policies are likely to fail – as they have indeed in the past. They would only lead to Sepah Pasdaran expanding its dominance in the region. This, in turn, will eventually allow the Iranian regime to impose itself as a nuclear power because nobody can then stop it from having its nuclear bombs.
The people of Syria need to know that they did not make a mistake in March 2011 when they took to the streets demanding freedom and dignity.
Millions of Syrian refugees need to believe that the international political system is not a mockery, and that they will be able to return to their homes and that justice will prevail.
Thank you.
RESOURCES
1. Webstream of the conference: https://alde.livecasts.eu/countering-extremism-and-improving-governance-in-the-mena-region
2. Naame  Shaam's report "Iran in Syria: From an Ally of the Regime to an Occupying Force" (November 2014)
3. Naame Shaam's report "Silent Sectarian Cleansing: Iranian Role in Mass Demolitions and Population Transfers in Syria" (May 2015)
4. Naame Shaam's policy paper "New Narrative for the Syrian Revolution and Policy Recommendations for the US and its Allies" (in Arabic).
5. In April 2015, Naame Shaam officially handed to the Office of the International Criminal Court (ICC) Prosecutor in The Hague Naame Shaam documents linking Iran's Sepah Qods  and Hezbollah to war crimes and crimes against humanity committed in Syria since March 2011. Iranian military commanders appear to be at the heart of these crimes. Naame Shaam urged the ICC Prosecutor to use the powers bestowed upon her by the Rome Statute and initiate an investigation into these crimes of her own initiative (proprio motu), even if this were to be vetoed by Russia and China in the UN Security Council. See here (in Arabic; in Persian).