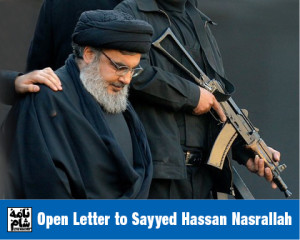 The Hague, 19 January 2015 – The campaign group Naame Shaam (1) today published an open letter to Sayyed Hassan Nasrallah, the leader of Hezbollah Lebanon, urging him to withdraw his fighters from Syria in order to stop the fitna (2) and save the Shia communities of Lebanon from a disaster.
In a video message published on YouTube, the group also urged all Lebanese, Iranians and Syrians to send their own text and video messages to Nasrallah, asking him – with respect and politeness – to end Hezbollah Lebanon's intervention in Syria.
In the video message, Naame Shaam's Campaign Director Fouad Hamdan says that Hezbollah fighters are "complicit" in many grave human rights abuses, crimes against humanity and war crimes committed in Syria. "The party's leadership and military commanders today face the possibility of standing trial for their complicity in these crimes," he adds.
"Like Iran, Hezbollah is today bleeding in Syria," Hamdan says, addressing Nasrallah. "You argued that Hezbollah had to intervene in Syria to prevent Sunni jihadists from attacking Shia areas inside Lebanon. But the reality is that your direct military intervention in Syria, especially after the battle of al-Qusayr in 2013, led to more and more jihadists planning and carrying out terrorist attacks inside Lebanon as retribution. It also led to an attrition war along the Syrian-Lebanese borders. The Lebanese Shia communities today live in a state of constant fear and insecurity."
Hezbollah has come to be seen as an "occupying force in Syria and as a sectarian militia used by the Iranian regime in its military adventures in Iraq, Syria, Lebanon and Yemen," the letter adds.
"More worryingly, the fact that Hezbollah fighters are killing mostly Sunni rebels and civilians in Syria is creating a growing fitna (sectarian strife) that is bound to destabilise the whole region, including Lebanon, for years to come."
The letter ends with a personal plea to Sayyed Nasrallah: "We call upon you to help end this fitna before it is too late. For this you need to pull all Hezbollah fighters, trainers and advisors out of Syria. In parallel, a national reconciliation process should be started in Lebanon to heal the wounds and turn a new page."
Acknowledging the possible costs to Hezbollah of such a move, Hamdan adds: "We are aware that this policy shift would mean cutting off your relationship with the Iranian regime and refusing the orders of Sepah Qods, the foreign arm of Sepah Pasdaran. But we, at Naame Shaam, believe that this is the only way to end the suicidal intervention of Hezbollah Lebanon in Syria and to save the Shia community in Lebanon from a disaster."
For further questions,
Please contact Naame Shaam's Campaign Director Fouad Hamdan.
Notes for editors:
1. Naame Shaam is a group of Iranian, Syrian and Lebanese activists and citizen-journalists that focuses on uncovering the role of the Iranian regime in Syria, www.naameshaam.org. Naame Shaam is supported by the Netherlands-based Rule of Law Foundation, www.lawrules.org.
2. Fitna in Arabic means "sectarian strife". In the context of the Hezbollah intervention in Syria, fitna refers to sectarian strife between the Shia and Sunni communities.
3. In November 2014, Naame Shaam published an in-depth report on the role of the Iranian regime in the ongoing war in Syria. The report "Iran in Syria: From an Ally of the Regime to an Occupying Force" includes a lot of details about the involvement of Hezbollah Lebanon and other Shia militias controlled by Sepah Pasdaran (Iran's Revolutionary Guards).
Links related to the report "Iran in Syria: From an Ally of the Regime to an Occupying Force":
4. Naame Shaam has developed, on the basis of the above-mentioned report, a new narrative of the Syrian revolution and war, as well as detailed policy recommendations to the US-led alliance against the Syrian regime and its supporters: