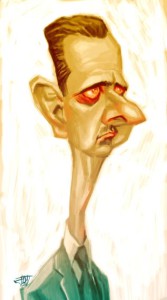 "Wasted Decade – Ten years of Bashar al-Assad in Power (2000-2010)"
Tehran, 28 May 2014 – Naame Shaam has translated and published today into Persian the Human Rights Watch report "Wasted Decade", which was released only in English and Arabic on July 16, 2010.
This is an unofficial translation.
We believe that, ahead of the shame presidential elections in Syria on 3 June 2014, the Iranian public should have a close look at Syrian President Bashar al-Assad who receives massive military and economic support from the regime in Iran.
Naame Shaam is calling for Syria 'election rallies' in front of Iranian embassies and consulates worldwide on 2 June 2014, a day before the elections in Syria.
We call on all friends and supporters of the Syrian revolution to demonstrate peacefully on this day with the aim of mocking Syrian dictator Bashar al-Assad and his Iranian master, the head of Sepah Qods Gen. Qassem Soleimani. See: http://www.naameshaam.org/en/call-for-syria-election-rallies-at-iranian-embassies-around-the-world-on-2-june-2014/
Sepah Qods is a division of Sepah Pasdaran (Iran's Revolutionary Guards) that funds and controls al-Assad's forces, as well as Hezbollah Lebanon and the Iraqi militias fighting in Syria.
The reasoning and circumstances of the Naame Shaam campaign to elect Gen. Soleimani as president of Syria, his bio and 'election programme', can be found at http://www.naameshaam.org/en/vote_for_qassem_soleimani-president-of-syria/
The main points of the report
_ After Bashar al-Assad succeeded his father as president in July 2000, many people in Syria hoped that the human rights situation would improve. Ten years later, these initial hopes remain unfulfilled, and al-Assad's words have not translated into any kind of government action to promote criticism, transparency, or democracy.
_ This report reviews Syria's human rights situation in five key areas and proposes concrete recommendations to the Syrian President that are essential to improving Syria's human rights record.
_ Was al-Assad a true reformer who did not have the capacity early in his reign to take on an entrenched "old guard" that refused any political opening? If so, why has he not implemented these reforms in the ensuing years after he had consolidated his power base and named his own people to key positions? Or was al-Assad's talk of reform a mere opportunistic act to gain popularity and legitimacy that he never intended to translate into real changes?
_ It is clear that after a decade in power, Bashar al-Assad has not taken the steps necessary to truly improve his country's human rights record. He has focused his efforts on opening up the economy without broadening public freedoms or establishing public institutions that are accountable for their actions.
_ So while visitors to Damascus are likely to stay in smart boutique hotels and dine in shiny new restaurants, ordinary Syrians continue to risk jail merely for criticizing their president, starting a blog, or protesting government policies.
_ The state of emergency, enacted in 1963, remains in place, and the government continues to rule by emergency powers.
_ Syria's security agencies, the feared mukhabarat, continue to detain people without arrest warrants, frequently refuse to disclose their whereabouts for weeks and sometimes months, and regularly engage in torture.
_ Special courts set up under Syria's emergency laws, such as the Supreme State Security Court (SSSC), sentence people following unfair trials. Syria is still a de facto single-party state with only the Ba`ath Party holding effective power.
_ Bashar al-Asad has permitted Syrians to access the internet but his security services detain bloggers and censor popular websites.
_ On September 22, 2001, one year after al-Asad assumed power, the Syrian government adopted a new Press Law (Decree No. 50/2001), which provided the government with sweeping controls over newspapers, magazines, and other periodicals, as well as virtually anything else printed in Syria, from books to pamphlets and posters.
_ Despite statements by First Lady Asma al-Assad in January 2010 that the government "wanted to open more space for civil society to work," Syria's security services continue to deny registration requests for independent non-governmental organizations and none of Syria's human rights groups are licensed.
_ The Kurdish minority is denied basic group rights, including the right to learn Kurdish in schools or celebrate Kurdish festivals, such as Nowruz (Kurdish New Year).
_ Official repression of Kurds increased further after Syrian Kurds held large-scale demonstrations, some violent, throughout northern Syria in March 2004 in order to voice long-simmering grievances.
_ Since then, security forces have dispersed Kurdish political and cultural gatherings, sometimes with lethal force, and have detained a number of leading Kurdish political activists.
_ Despite repeated promises by al-Asad, an estimated 300,000 stateless Kurds are still waiting for the Syrian government to solve their predicament by granting them citizenship. Most of these had their Syrian citizenship stripped by the Syrian government after an exceptional census in 1962 or are their descendants.
_ Promises by al-Assad for new laws that would broaden political and civil society participation have not materialized.
_ A review of Syria's record shows a consistent policy of repressing dissent regardless of international or regional developments. Al-Assad's crackdown on dissidents began in August 2001and continued throughout the decade, irrespective of the state of Syria's relations with the international community.
The full HRW report in English: http://www.hrw.org/node/91580/section/2
The full HRW report in Arabic: http://www.hrw.org/ar/reports/2010/07/16
The Persian version of the full HRW report can be found here: http://bit.ly/1rgeTOV