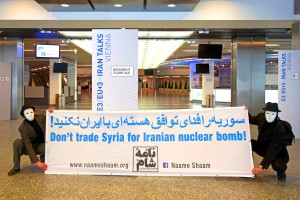 IRAN NUCLEAR DEAL MISSES OPPORTUNITY TO STOP DESTABILISING POLICIES OF IRANIAN REGIME
US must now start new diplomatic process to end Iranian military intervention in Syria
The Hague, 20 July 2015 – The campaign group Naame Shaam (1) today said that the Joint Comprehensive Plan of Action (JCPOA), or the Vienna Deal, between Iran and world powers regarding Iran's nuclear programme could prevent the US and its allies from being able to put any serious pressure on the Iranian regime in the future to force it to end its destabilising policies in the region.
In a statement released today, the campaign group presented three key arguments and demands to back up its claim, along with two other related issues.
1_ Article 29 of the Joint Comprehensive Plan of Action between Iran and the E3/EU+3 (China, France, Germany, Russia, the UK and the US) reads:
The EU and its Member States and the United States, consistent with their respective laws, will refrain from any policy specifically intended to directly and adversely affect the normalisation of trade and economic relations with Iran inconsistent with their commitments not to undermine the successful implementation of this JCPOA.
Aside from everything else in the deal, Article 29 effectively prevents Western powers from being able to impose, at some point in the future, economic sanctions on Iran in relation to gross human rights abuses in Iran, sponsoring terrorism or crimes against humanity and war crimes committed in Syria and elsewhere by Sepah Pasdaran (Iran's Revolutionary Guards) and its militias, because they are now committed to a "normalisation of trade and economic relations with Iran." (2)
Naame Shaam Campaign Director Fouad Hamdan said: "The US and its Western allies are basically tying their own hands and giving away the only effective peaceful leverage they had to stop the Iranian regime's destabilising policies in the region."
Demand: The US and the EU should consider re-negotiating Article 29 of the Vienna Plan of Action.
2_ Another crucial point in the Vienna Deal is the lifting of economic sanctions on Iran and how the released money will be spent under the current regime.
There is no doubt that a big part of the tens of billions of dollars that will be released will be injected into Sepah Pasdaran's coffers and spent on supporting the Assad regime and Hezbollah Lebanon in suppressing the Syrian people and on destabilising Iraq, Lebanon and Yemen.
Indeed, President Bashar Assad was among the first to congratulate the Iranian regime the day the Vienna Deal was signed and to voice his confidence that Iran would step up its efforts to "support just causes," suggesting he expects more financial and military aid from his allies in Tehran. In June 2015, Iranian President Hassan Rouhani said Iran would back the Syrian regime "until the end of the road."
The head of Naame Shaam's Research and Advocacy team, Shiar Youssef, said: "The Iranian regime has spent billions and billions of dollars on weapons and fighters shipped to Syria since the start of the revolution there in March 2011. It has also been propping up the economy in the regime-controlled parts of Syria through financial loans and credit lines worth billions of dollars."
"In early July 2015, the Syrian regime ratified yet another credit line from Iran worth one billion dollars. The Assad regime would have collapsed a long time ago if it was not for this Iranian support." Youssef added.
Demand: Sanctions relief should benefit the Iranian people and not Sepah Pasdaran and its foreign military arm, Sepah Qods. The US and the EU should therefore amend the Vienna Deal and include clauses that impose a verifiable and effective mechanism to ensure that the released cash will be used strictly for civilian purposes in Iran.
3_ According to the Vienna Deal, restrictions on Iranian ballistic missiles will be lifted in eight years and a similar ban on the purchase and sale of conventional weapons will be removed in five years. Both bans could be shelved even sooner if the International Atomic Energy Agency (IAEA) reaches a definitive conclusion that the Iranian nuclear programme is entirely peaceful, and that there is no evidence of cheating on the accord or any activity to obtain weapons covertly.
Demand: The Iranian regime should continue to not be allowed to import and export weapons as long as it is engaged militarily in Syria, Lebanon, Iraq and Yemen. All articles in the Vienna Deal regarding lifting the arms embargos on Iran should be scrapped. They have nothing to do with Iran's nuclear programme.
Now that US President Barack Obama has struck a nuclear deal with Iran, he can no longer ignore what the Iranian regime is doing in Syria and the wider region. He has a moral and a political obligation to tell Iranian Leader Ayatollah Ali Khamenei that his regime can no longer get away with war crimes and crimes against humanity that his regime is committing in Syria and elsewhere.
Hamdan said: "Iranian Gen Qassem Soleimani, the head of Sepah Qods and the de facto ruler of so-called regime-held areas in Syria, should be stopped from destroying what is left of Syria and turning it into a battle field for a sectarian militia war. Only then can the Assad regime be stopped from barrel-bombing and gassing civilians in Syria."
Demand: Whether or not the Vienna Deal is ultimately approved by the US Congress and other concerned governments, the US should immediately start and lead a new negotiation process with the Iranian regime focusing on the latter's intervention in Syria, Lebanon, Iraq and Yemen. This diplomatic process should include all parties directly affected by this intervention. The negotiations should start now, while there is still some strong economic leverage represented by the current sanctions regime against Iran.
Meanwhile, Syria is disintegrating and descending into the Dark Ages, while neighboring Lebanon is on the verge of imploding because of Hezbollah's military intervention in Syria.
Hamdan noted: "The Iranian regime's sectarian policies in Syria, Lebanon, Iraq and Yemen – implemented through extremist sectarian Shia militias it funds, arms and controls in these countries – has been the main fuel driving extremist Sunni groups such as Daesh (ISIS) and Jabhat al-Nusra. Both Shia and Sunni extremists are the enemies of a free Syria where the rule of law prevails."
Demand: The US administration should fulfil its promises by arming and training enough moderate Syrian rebels, not only to fight Daesh but also Syrian and Iranian regime forces and militias. When enough moderate Syrian rebels have been armed and trained to liberate Syria, no-fly zones should be imposed to protect civilians and allow humanitarian access throughout Syria in line with the international 'responsibility to protect' norm. Last but not least, the situation in Syria should also be referred to the International Criminal Court (ICC) to investigate all war crimes and crimes against humanity committed in Syria, including Sepah Pasdaran's and Hezbollah's role.
Naame Shaam is currently going through the terms of the Vienna Deal. Youssef said: "We will elaborate on other points in the deal not mentioned in this statement. Based on this detailed review, we hope to provide a useful and meaningful assessment of what the deal means and how it will work (or not). This assessment will in turn provide a basis for new policy recommendations updating our previous ones in light of the new reality."
Notes for editors:
1. Naame Shaam is a group of Iranian, Syrian and Lebanese activists and citizen-journalists that focuses on uncovering the role of the Iranian regime in Syria. Naame Shaam (نامه شام) means "Letter from Syria" in Persian. For more details about the group and its activities, see www.naameshaam.org.
Naame Shaam is supported by the Netherlands-based Rule of Law Foundation, www.lawrules.org.
2. Naame Shaam has produced two in-depth reports accusing the Syrian and Iranian regimes of committing various crimes against humanity and war crimes in Syria since March 2011. The first report, released in November 2014, is titled "Iran in Syria: From an Ally of the Regime to an Occupying Force". The second report, released in April 2015, is titled "Silent Sectarian Cleansing: Iranian Role in Mass Demolitions and Population Transfers in Syria".
On 23 April 2015, a Naame Shaam representative handed both reports to the Office of the International Criminal Court (ICC) Prosecutor in The Hague and called on the Prosecutor to open an investigation into these crimes. This should include the role of Iranian officials and commanders, particularly Gen Qassem Soleimani. See here.
Name Shaam argues that there is sufficient evidence for the ICC to try the military and political leadership of Iran for complicity in various crimes committed in Syria. This ranges from inciting, endorsing and adopting specific criminal and terrorist acts to aiding and abetting war crimes and crimes against humanity. The 2014 report also presents a legal case for treating the war in Syria as an international conflict that involves a foreign occupation by the Iranian regime and its militias and a liberation struggle by Syrian people against this foreign occupation, as defined by the 1907 Hague Regulations and the Fourth Geneva Convention of 1949.