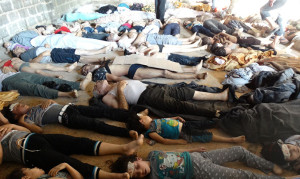 EXPERTS SHOULD SAMPLE SITES OF CHLORINE BOMB ATTACKS IN SYRIA FOR HIGHLY TOXIC DIOXIN
New Joint Investigative Mechanism should also investigate role of Iranian Revolutionary Guards in chemical attacks in Syria
The Hague, 19 August 2015 – The campaign group Naame Shaam (1) today demanded that the Organisation for the Prohibition of Chemical Weapons (OPCW) should sample all sites where chlorine bombs have been used in Syria to determine the degree of dioxin contamination in those areas.
When chlorine is burned or used in bombs, it produces a highly toxic substance called dioxin, which is one of the most lethal toxins known after plutonium. Just a few milligrams of dioxin can contaminate a whole region. According the World health Organization (WHO), dioxin can cause reproductive and developmental problems, damage the immune system, interfere with hormones and cause cancer.(2)
The call to sample chlorine bombing sites in Syria for dioxin comes after the UN Security Council adopted a resolution on 7 August 2015 establishing a Joint Investigative Mechanism between the UN and OPCW to identify perpetrators using chemical weapons in Syria. The new mission is mandated to "identify to the greatest extent feasible individuals, entities, groups or governments perpetrating, organizing, sponsoring or otherwise involved in the use of chemicals as weapons in Syria."(3)
Naame Shaam's Campaigns Director, Fouad Hamdan, said: "OPWC experts should sample all chlorine bombing sites in Syria for traces of dioxin so that civilians in contaminated areas can take appropriate safety measures to avoid dioxin poisoning."
"The Joint Investigative Mechanism should also thoroughly examine the role played by Sepah Pasdaran (Iran's Revolutionary Guards) in the use of chemicals as weapons in Syria. This should include its possible participation in all chemical attacks documented in Syria by ordering, soliciting, inducing, aiding, abetting or otherwise assisting the attempt, commission or facilitation of these crimes, including providing the means for their commission," Hamdan added.
The Head of Naame Shaam's Research and Advocacy team, Shiar Youssef, said: "We have gathered evidence that strongly suggest Sepah Pasdaran is complicit in chemical attacks attributed to Syrian regime forces, including the Ghouta chemical massacre on 21 August 2013."
"For example, the barrel bombs used in many of these attacks are known to be manufactured at a factory near Aleppo that is run with Sepah Pasdaran's assistance," Youssef noted.(4) "We also know that Sepah Pasdaran has assisted the Syrian regime in developing its chemical weapons arsenal and that Iranian officers were present at various chemical weapons tests in Syria and attended numerous meetings with their Syrian counterparts to discuss the use of chemical weapons."(5)
"We know that Sepah Pasdaran is in charge of the Syrian regime's military strategy and all its major military operations, so it must have been aware, and must have approved, of these chemical attacks," Youssef said.
Naame Shaam's call also comes two days before the second anniversary of the Ghouta chemical massacre, where several opposition-controlled areas in the Ghouta suburbs of Damascus were hit on 21 August 2013 by rockets containing the chemical agent sarin, killing hundreds of civilians, including many women and children.
In August 2014, Naame Shaam published evidence that suggested Sepah Pasdaran may have played a role in the Ghouta chemical attack, calling on the UN, Western governments and international organisations to include in their investigations a thorough examination of a possible role played by the Iranian regime in the massacre.(6)
The report included evidence that Sepah Pasdaran had prior knowledge of the attack and may have advised and trained Syrian regime forces on the use of sarin and other chemical weapons. It also included evidence that Iranian weapons (rockets and multiple launchers) may have been used in the attack.
Fouad Hamdan said: "Now that there is finally a strong UN Security Council mandate, OPWC experts should also investigate and report on the biggest elephant in the room: the Iranian officials and commanders in charge of the Syrian regime's military strategy, particularly Gen Qassem Soleimani, the head of Sepah Pasdaran's foreign arm (Sepah Qods) and the de facto ruler of the regime-held areas of Syria."
Naame Shaam has also been demanding that the UN Security Council refers the situation in Syria to the International Criminal Court (ICC). All war crimes and crimes against humanity committed in Syria should be investigated and their perpetrators punished according to international law, not only chemical attacks. And this should certainly include the role played by Sepah Pasdaran and the militias it controls in Syria, such as Hezbollah Lebanon.(7)
"It would absurd if the Syrian regime and Sepah Pasdaran stop using chlorine but are allowed to continue barrel-bombing civilian areas and committing massacres with conventional arms," Hamdan said.
Naame Shaam also reiterates its call on the US administration to fulfil its promises by arming and training moderate Syrian rebels, not only to fight Daesh (the so-called Islamic State) but also al-Qaeda-linked groups and Syrian and Iranian regime forces and militias. When enough moderate Syrian rebels have been armed and trained to liberate Syria, no-fly zones should be imposed to protect civilians and allow humanitarian access throughout Syria in line with the international 'responsibility to protect' norm.(8)
Notes for editors:
1. Naame Shaam is a group of Iranian, Syrian and Lebanese activists and citizen-journalists that focuses on uncovering the role of the Iranian regime in Syria. Naame Shaam (نامه شام) means "Letter from Syria" in Persian. For more details about the group and its activities, see www.naameshaam.org.
Naame Shaam is supported by the Netherlands-based Rule of Law Foundation, www.lawrules.org.
2. See the WHO on dioxin. See also the EPA on dioxin.
3. See the UN Security Council resolution 2235 (7 August 2015).
4. For more on the Iranian role in manufacturing Syria's barrel bombs, see here.
5. See here.
6. See here.
7. On 23 April 2015, a Naame Shaam representative handed two reports to the Office of the ICC Prosecutor in The Hague, Mrs. Fatou Bensouda, and urged her to open an investigation into war crimes and crimes against humanity committed in Syria, including the Iranian role in these crimes. See here.
The first report, released in November 2014, is titled "Iran in Syria: From an Ally of the Regime to an Occupying Force".
The second report, released in April 2015, is titled "Silent Sectarian Cleansing: Iranian Role in Mass Demolitions and Population Transfers in Syria".
8. For more on this, see Naame Shaam's policy recommendations to the United States and its allies.