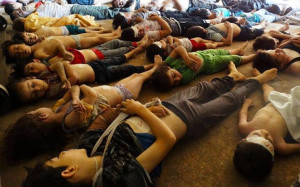 Evidence suggests Sepah Pasdaran may have played role in 2013 Ghouta chemical attack in Syria
Naame Shaam calls for international investigations to examine possible complicity of Sepah Qods chief Qassem Soleimani
Tehran/Damascus, 19 August 2014 – On the first anniversary of the Ghouta chemical attack in Syria, the campaign group Naame Shaam [1] has called upon the UN, Western governments and international organisations to include in their investigations a thorough examination of a possible role played by the Iranian regime in the massacre. Various pieces of evidence, the group says, indicate that Sepah Pasdaran (the Iranian Revolutionary Guards) may have well been complicit in this and other instances of use of chemical weapons in Syria.
On 21 August 2013, several opposition-controlled areas in the Ghouta suburbs of Damascus were hit by rockets containing the chemical agent sarin, killing hundreds of civilians, including many women and children.[2]
Apart from a few Syrian, Iranian and Russian propaganda outlets, and a few western journalists and commentators who fell for their propaganda,[3] most serious observers around the world now agree that it was Syrian regime forces who committed the massacre, which the UN has described as a war crime.
Very few reports, however, have examined the possible role of the Iranian regime in this and other chemical massacres committed in Syria over the past two years.[4]
Naame Shaam's spokesperson Ali Rahimi said: "We have gathered various pieces of evidence and leads that strongly suggest Sepah Pasdaran was complicit in the Ghouta chemical massacre and other chemical attacks in Syria. It is, of course, for more thorough investigations by specialised bodies to determine the reliability and conclusiveness of this evidence."
1. Was the Iranian regime aware of the plan?
There is abundant evidence by now that Sepah Pasdaran is in charge of the Syrian regime's military strategy and all its major military operations in Syria. Various testimonies by Syrian, Iranian and Hezbollah fighters, as well as official Iranian admissions, confirm this.[5]
Yet, it is possible, however unlikely, that the Syrian regime's leadership took the decision to use chemical weapons in al-Ghouta without consulting its allies in Tehran and Moscow.
In the aftermath of the attack, German intelligence services said they had intercepted a phone conversation between a high-ranking member of the Iranian-controlled militia Hezbollah Lebanon and the Iranian Embassy (presumably in Damascus or Beirut). In the phone conversation, the Hezbollah officer appears to be surprised that the Syrian regime had used chemical weapons, claiming Bashar al-Assad had "lost his nerves" and "made a big mistake by ordering the chemical weapons attack."[6]
Other media reports claimed, citing US officials, that top Iranian and Russian officials called the Syrian presidential palace on the day of the Ghouta attack "demanding to know what had happened."[7]
It is highly unlikely that the Ghouta chemical attack was the result of a moment of Bashar al-Assad's 'losing his nerves'. The Hezbollah caller may have simply assumed this because he was not aware of the plan. Chemical weapons have been used by the Syrian regime before and after the Ghouta massacre tens of times.[4] Evidence suggests all were well prepared, preplanned operations, and that the Ghouta attack was part of this strategy rather than an isolated incident.
It is also unlikely that the Iranian and Russian leaderships were unaware of such plans. In December 2012, the US intelligence intercepted an "unusually complete communication" in which Syrian officials spoke about a potentially larger-scale chemical attack involving aircraft. The White House reportedly sent private messages to the Russian government, which in turn asked the Iranian government to put pressure on the Syrian regime to "scrap the plan."[8]
Iran also played a role, alongside Russia, in brokering the Syrian chemical weapons deal that prevented a US military strike on Syria in the aftermath of the Ghouta massacre.[9]
Even if we were to believe that the Iranian government or political leadership were not aware of the Syrian regime's plans to use chemical weapons against rebels, evidence suggests that Sepah Pasdaran were fully aware of such plans, and even part of drawing them:
– Some of the earliest reports on chemical weapons-related activity in Syria (tests at the Sfeira facility east of Aleppo, a year before the Ghouta massacre) mention the presence of Sepah Pasdaran officers. According to Western intelligence sources, "Iranian officers believed to be members of the Revolutionary Guards were flown in by helicopter for the testing."[10]
– The former head of Syria's chemical arsenal, who defected in 2012, claimed in an interview in September 2012 that members of Sepah Pasdaran attended "numerous meetings" with their Syrian counterparts to discuss the use of chemical weapons. "They were always coming to visit and to advise," he said. "They were always sending us scientists and bringing our scientists to them. They were also involved on the political side of how to use the chemical weapons."[11]
– In December 2012, US intelligence officials said they had intercepted a communication that they believed was between Sepah Qods commanders and the Syrian regime leadership, in which the former "urged" the latter to "use its supplies of toxic Sarin gas against rebels and the civilians supporting them in the besieged city of Homs."[12]
A thorough investigation by a specialist and independent team should be able to put together these and other pieces of evidence to establish whether Sepah Psdaran had prior knowledge of the Ghouta attack and whether it had indeed advised and trained the Syrian regime troops to use sarin and other chemical weapons.
It should also not be very difficult for such a team to establish which Syrian military units carried out the attack (the 155th Missile Brigade, the 4th Armored Division, etc. [13]) and whether they had been liaising with Sepah Pasdaran 'advisors'. Evidence suggests they have been.
2. Were Iranian weapons used in the attack?
It is well-known and well-documented by now that the Iranian regime had been supplying the Syrian regime troops with various types of weapons that the latter has used against the Syrian population, in addition to paying for the Russian-supplied weapons.[14]
One relevant question, then, is whether the rockets used in the Ghouta chemical attack had been supplied or paid for by the Iranian regime, which may amount to aiding and abetting a war crime.
In December 2013, a new study analysing rockets linked to the Ghouta sarin attack concluded that the rockets were "most likely" fired by multiple launchers and had a range of about three kilometres. Moreover, the analysis suggested that the rockets were propelled by motors taken from a common family of 122-millimetre conventional artillery rockets known as the BM-21. The BM-21 line is a globally abundant system of ground-to-ground rockets, widely knowns as Grads, that originated in the Soviet Union but have been reproduced and updated by many countries, including Russia, China, Egypt and Iran.[15]
In July 2014, Syrian opposition media published what they claimed was an outline of one of the biggest arms factories in Syria, near Sfeira, leaked by an engineers who worked there.[16] The factory reportedly manufactures, in large quantities, barrel bombs, ground-to-ground missiles, mortars and other types of weapons commonly used by Syrian regime troops.
Significantly, the engineer claimed that there are "four separate administrations competing with one another within the factory." One of them is Iranian, he said, which is allegedly responsible for importing explosives and metals used to make shells, before sending them off to the "Chinese ovens." He also said that the factory had "large quantities of chemical weapons" before they were destroyed under the chemical weapons deal.
The report corroborates other reports about Syrian arms factories built and run with Iranian and Chinese assistance.[17] Moreover, barrel bombs loaded with toxic chemicals, such as chlorine, have been used by Syrian regime troops on civilian areas, such as Kafar Zeita near Hama.[18] Iran has been accused of supplying the Syrian regime with Chinese-made chlorine gas canisters, of which it recently placed an order of 10,000 canisters, according to media reports.[19]
All these pieces of evidence suggest that Sepah Pasdaran, and possibly others within the Iranian military apparatus, are well aware of the Syrian regime's use of chemical weapons and may have well helped it do just that.
3. What was the role of the Sepah-controlled Iraqi militias?
A number of reports on the Ghouta massacre mention that, during and in the immediate aftermath of the attack, Iraqi militias, particularly the Kata'eb Sayyid al-Shuhadaa, were present in the area.[20] Their task was reportedly to "guard" the besieged areas held by rebels to prevent people from fleeing. Clashes between the two side were reported over the few following days and Sayyid al-Shuhadaa held funerals for a number of its fighters who were killed there.
The close links between Sepah Pasdaran and the various Iraqi militias fighting in Syria are well-known and well-documented.[21] The relevant question here is whether these Sepah-controlled militias' presence in the area was pre-planned with connection to the chemical attack or was just part of wider military operations in the area. It should not be difficult for an international investigation to establish this.
Calls for a more thorough investigation of Sepah Pasdaran's role
Many calls and petitions have called for a more thorough investigation or trail focusing on the Ghouta chemical massacre and bringing the perpetrators to justice. As far Naame Shaam is aware, only one petition has appealed to the International Criminal Court prosecutor to also "investigate the role of Iran's Revolutionary Guards or Hezbollah in this crime and bring them to justice."[22]
Naame Shaam's spokesperson Hossein Amir said: "Syrians and Iranians have the right to know whether Sepah Pasdaran and its foreign operations unit, Sepah Qods, were directly or indirectly involved in the Ghouta chemical massacre and other instances of use of chemical weapons in Syria. Because if they did, that would make them complicit in these war crimes and crimes against humanity, be it by aiding and abetting or endorsing and adopting them."
"If members of Sepah Pasdaran did participate in the Ghouta chemical massacre and other instances of use of chemical weapons in Syria, they too should be brought to justice under the Geneva Conventions and other relevant international law. The chief of Sepah Qods, Gen. Qassem Soleimani, who controls all Sepah Pasdaran, Hezbollah Lebanon and the Iraqi militias in Syria, would probably be the main suspect," Amir added.
For further questions:
Please contact Naame Shaam's spokesperson Hossein Amir at
Email: [email protected]
Notes for editors and background information:
[1] Naame Shaam (نامه شام), or "Letters from Syria", is a group of Iranian, Syrian and Lebanese activists and citizen-journalists who work to raise awareness about the Iranian regime's policies and involvement in Syria and to influence the public narrative about the Syrian revolution. For more information, see our website at http://www.naameshaam.org. [2] They have been a number of investigations and in-depth reports about the Ghouta chemical attack. For example:
– The UN report: http://www.scribd.com/doc/168606795/U-N-Report-on-Chemical-Attack-in-Syria
– Human Rights Watch's reports: http://www.hrw.org/node/118725 and
http://www.hrw.org/sites/default/files/reports/syria_cw0913_web_1.pdf
– The Violations Documentation Center's report: http://www.vdc-sy.info/index.php/en/reports/chemicalmassacrefollowup
– The US government's assessment: http://news.bbc.co.uk/2/shared/bsp/hi/pdfs/30_08_13_assesment.pdf [3] The most famous example of this was Symour Hersh's article in the London Review of Books in April 2014, which argued that the attack may have been committed by Jabhat al-Nusra with the help of the Turkish government:
http://www.lrb.co.uk/v35/n24/seymour-m-hersh/whose-sarin and
http://www.lrb.co.uk/v36/n08/seymour-m-hersh/the-red-line-and-the-rat-line.
For more details on the whole affair, see:
http://www.naameshaam.org/en/seymour-hersh-and-the-gouta-chemical-massacre/
There have been numerous articles and commentaries debunking Hersh's misguided allegations, e.g.:
http://www.foreignpolicy.com/articles/2013/12/09/sy_hershs_chemical_misfire#sthash.bMCue1XH.APmouRPS.dpbs
https://now.mmedia.me/lb/en/commentaryanalysis/524969-524969-why-seymour-hersh-has-it-wrong-this-time
http://eaworldview.com/2013/12/syria-special-chemical-weapons-conspiracy-wasnt-seymour-hershs-exclusive-dissected/
http://www.theguardian.com/commentisfree/2014/apr/22/allegation-false-turkey-chemical-attack-syria
http://lareviewofbooks.org/essay/dangerous-method-syria-sy-hersh-art-mass-crime-revisionism
The other famous propaganda piece was a Mint Press 'investigation' in August 2013 claiming the attack was carried out by the rebels themselves with the help of Saudi Arabia: http://www.mintpressnews.com/witnesses-of-gas-attack-say-saudis-supplied-rebels-with-chemical-weapons/168135/
For a detailed debunking of the story, see:
https://ceasefiremagazine.co.uk/syria-deciphering-propaganda-war-ghouta-massacre/
[4] About previous and subsequent chemical attacks by the Syrian regime, see:
http://www.naameshaam.org/en/reports-confirm-use-of-toxic-gases-by-syrian-regime-again/
http://www.syrianhr.org/reports/syrian-network-for-human-rights-report-24-07-2013-10.pdf
http://www.vdc-sy.info/index.php/en/reports/1400970048
http://www.telegraph.co.uk/news/worldnews/middleeast/syria/10796175/Syria-chemical-weapons-the-proof-that-Assad-regime-launching-chlorine-attacks-on-children.html [5] About Iranian regime being in charge in Syria, see for example:
http://www.naameshaam.org/en/sepah-pasdaran-commander-al-assad-is-fighting-syria-war-as-our-deputy/
http://www.naameshaam.org/en/iranian-mp-revealing-details-of-irans-military-support-of-syrian-regime-against-national-interests/
http://www.naameshaam.org/en/iranian-general-admits-advising-syrian-regime-on-establishing-shabbiha-paramilitary-force/
http://iranpulse.al-monitor.com/index.php/2013/02/1346/head-of-ammar-strategic-base-syria-is-irans-35th-province-if-we-lose-syria-we-cannot-keep-tehran/
http://www.naameshaam.org/en/irans-secret-army/
http://www.naameshaam.org/en/hezbollah-fighters-dont-trust-the-assad-army-prefer-to-fight-in-syria-on-their-own/
http://www.naameshaam.org/en/assad-trusts-sepah-pasdaran-more-than-his-own-armed-forces/
http://online.wsj.com/news/articles/SB10000872396390443720204578000482831419570
http://www.theguardian.com/world/2012/may/28/syria-army-iran-forces
http://online.wsj.com/news/articles/SB10001424127887323864604579067382861808984
http://www.reuters.com/article/2014/02/21/us-syria-crisis-iran-idUSBREA1K09U20140221
http://www.reuters.com/article/2012/05/17/us-iran-sanctions-un-idUSBRE84F14520120517
http://www.alarabiya.net/articles/2013/02/14/266293.html
http://www.naameshaam.org/en/vote_for_qassem_soleimani-president-of-syria/ [6] For more details, see: http://www.spiegel.de/international/world/german-intelligence-contributes-to-fact-finding-on-syria-gas-attack-a-920123.html and
http://www.telegraph.co.uk/news/worldnews/middleeast/syria/10284773/Syria-crisis-chemical-weapons-use-a-big-mistake-Hizbollah-told-Iran.html [7] See: http://online.wsj.com/news/articles/SB10001424052702303914304579194203188283242 [8] Ibid. [9] See http://bigstory.ap.org/article/iran-tries-prevent-military-strike-syria [10] See http://www.clarionproject.org/analysis/irans-hand-chemical-attacks-assads-syrian-regime and http://www.spiegel.de/international/world/syria-tested-chemical-weapons-in-desert-in-august-eyewitnesses-say-a-856206.html [11] See http://www.telegraph.co.uk/news/worldnews/middleeast/syria/9552147/Syrian-regime-will-deploy-chemical-weapons-as-last-resort.html [12] http://news.yahoo.com/us-weighing-military-options-syria-uses-wmd-223957678.html [13] See, for example: http://online.wsj.com/news/articles/SB10001424052702303914304579194203188283242
http://www.hurriyetdailynews.com/turkeys-state-agency-obtains-detailed-information-about-chemical-attacks-in-syria-.aspx?pageID=238&nID=53556&NewsCatID=352 [14] See, for example: http://www.naameshaam.org/en/after-money-rockets-and-fighters-iran-sends-its-drones-to-syria/
http://brown-moses.blogspot.co.uk/2013/05/evidence-of-iranian-arms-provided-to.html
http://brown-moses.blogspot.co.uk/2013/05/more-evidence-of-sanction-busting.html
http://www.reuters.com/article/2012/05/17/us-iran-sanctions-un-idUSBRE84F14520120517 [15] For more details, see:
http://www.nytimes.com/2013/12/29/world/middleeast/new-study-refines-view-of-sarin-attack-in-syria.html [16] See http://all4syria.info/Archive/157599 [17] See, for example: http://www.nti.org/facilities/482/ [18] For more details, see:
http://www.naameshaam.org/en/reports-confirm-use-of-toxic-gases-by-syrian-regime-again/ [19] For more details, see:
http://blogs.telegraph.co.uk/news/concoughlin/100270222/all-the-evidence-points-to-iran-supplying-syria-with-chlorine-bombs/ [20] See, for example: http://www.sn4hr.org/public_html/wp-content/pdf/english/shia%27a-en.pdf [21] See, for example: http://jihadology.net/hizballah-cavalcade/ and
http://i-hls.com/wp-content/uploads/2014/02/Gilbert-ICT-Rise-of-Shiite-militias-and-post-Arab-Spring-sectarian-threat.pdf [22] The petition is available at
https://secure.avaaz.org/ar/petition/lmdy_lm_llmHkm_ljnyy_ldwly_mHkm_mnfdhy_mjzr_lkymwy_bGwT_dmshq/