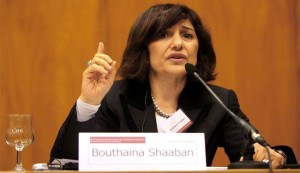 Buthayna Shaaban, Syrian president's political and media adviser:
"Some friendly TV channels have recently been broadcasting interviews and reports that kind of give the impression that the Syrian state would not have held up if it was not for so-and-so state and such-and-such party.This is completely unacceptable to us. Syria has held up because of its people, who have so far given over a quarter of a million martyrs.The Ministry of Information has taken a number of measures that reflect the Syrian state's vision, which sees its relations with other countries as based on mutual respect."
EXPLANATORY NOTES:
– The "friendly channels" referred to by Shaaban include in particular Hezbollah Lebanon's Al-Manar TV and the Iranian-funded Al-Mayadeen. Both have been celebrating – and fabricating – the military 'victories' achieved by Hezbollah and other militias directed and controlled by Sepah Pasdaran. "Such-and-such state" obviously refers to Iran and Russia.
– The "measures" taken by the Syrian Ministry of Information include requiring these foreign channels to obtain a prior permission before covering Syrian regime forces' battles, especially from the frontlines and regime-held areas. The aim, according to insiders from Al-Manar and Al-Mayadeed, is to allow Syrian state-controlled channels to broadcast these 'scoops' first and give the impression that the Syrian regime is the one who's in control, not Hezbollah and Sepah Pasdaran commanders and the media outlets affiliated with them.
– The surprise move is likely to have originated from the Iranian regime, which has been trying hard to not be portrayed as the one who is actually controlling and directing the war in Syria. But it is just about public perceptions, of course. The facts on the ground remain the same.