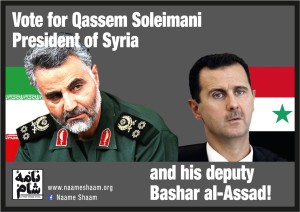 Tehran, 24 May 2014 – The campaign group Naame Shaam today launched an 'election campaign' to vote Iranian General Qassem Soleimani as president of Syria, and Syrian current president Bashar al-Assad to be his deputy.
Gen. Soleimani is the chief of Sepah Qods, a division of Sepah Pasdaran (the Iranian Revolutionary Guards), which fully controls the armed forces of the Assad regime, as well as its policies and economy. Sepah Pasdaran's foot soldiers, Hezbolah Lebanon and Iraqi militias, have been fighting all major battles in Syria.
Al-Assad is running for a third term at the controversial presidential elections, scheduled on 3 June 2014, despite widespread opposition and the country being in a state of war.
Naame Shaam's campaign to elect Gen. Qassem Soleimani as president of Syria aims to mock the sham elections and to highlight the Iranian regime's role in Syria.
For further questions:
Please contact Naame Shaam's spokesperson Hossein Amir at [email protected]
Note for editors:
1- The reasoning and circumstances of the campaign, along with Gen. Soleimani's mock election programme and campaign poster, can be found at
http://www.naameshaam.org/en/vote_for_qassem_soleimani-president-of-syria/
There are plenty of quotes to use in there.
2- Naame Shaam (نامه شام), or "Letters from Syria", is a group of Iranian, Syrian and Lebanese activists and citizen-journalists who work to raise awareness about the Iranian regime's policies and involvement in Syria. In addition to protests and campaigns, the group monitors and debunks the pro-Syrian regime propaganda coming from the Iranian regime and its media. It also reports and comments on major events in Syria from an independent Iranian perspective, in both Farsi and English. For more details about Naame Shaam, please see our website at www.naameshaam.org.