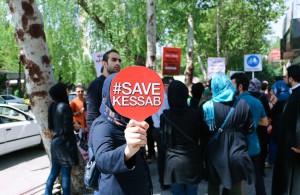 Dozens of Armenians held a demonstration in front of the UN mission in Tehran on 16 April 2014. They were protesting against alleged massacres committed by Syrian rebels against the Armenian residents of the northern town of Kasab in March 2014. [1] Similar protests had been held by Armenian communities around the world, including some in Turkey. [2]
Unsubstantiated rumours of massacres against the Armenians of Kasab, and accusations that the Turkish government had deliberately facilitated them, [3] understandably provoked memories of the 1915 Armenian genocide in Turkey, especially that the developments in Kasab came shortly before the 99th anniversary of the genocide on 24th April. Armenian President Serge Sarkisian described the events as the "third expulsion of Armenians from Kessab", in reference to the forced expulsions of Armenians in 1909 and the Armenian genocide in 1915. [4]
What is not understandable, however, is how these memories and fears were employed by the Syrian and Iranian regime's propaganda machine to turn many Armenians and other Christians to unwittingly side with the murderous Syrian regime and itsbackers in Moscow and Tehran.
What happened
On 21 March 2014, armed opposition groups, including the Al-Qaeda-affiliated Jabhat al-Nusra, launched a coordinated offensive and seized the town of Kasab after clashes with Syrian regime forces.Some of the opposition fighters are said to have crossed the border from Turkey – which is nothing new in itself. Kasab is an Armenian-populated town near the north-western border with Turkey, in the coastal province of Latakia.
The rebels' operation was part of a broader military campaign in the coastal area launched earlier in March 2014. The regime forces fighting them, who seem to have been losing ground in this battle, are backed by several militias, including Hezbollah Lebanon and an Alawite militia called the Liberation of Iskanderon. Some observers have suggested that the propaganda and spin surrounding Kasab was partly intended to cover the regime's losses in the coast battle. [5]
On hearing the first gunshots, Kasab's Armenian community leaders made a decision to evacuate the whole population to avoid possible massacres and siege. Most of the residents (around 850 families, mostly Armenians, some Alawite) were safely evacuated to Latakia. A few elderly people apparently remained behind, some of whom were later evacuated to Aleppo.
According to the evacuees themselves, not one single Armenian was killed in the fighting, and not one single Armenian was wounded. Neither were homes and churches looted or destroyed. Several of them confirmed this to Naame Shaam's correspondent in Latakia. Even the mayor of Kasab, along with an MP from the Republic of Armenia who visited Syria, said that no Armenians were killed.
But the stories that were widely circulated among the Armenian communities around the world painted a very different picture.
Propaganda
Here are a few examples of how the propaganda around the recent events in Kasab worked:
– Armenian diaspora newspaper Asbarez reported the "death of 80 Armenians" in Kasab. [6]Armenian Weekly claimed the opposition fighters, "mostly from the extremist Nusra Front, who have entered Kessab are desecrating churches, pillaging houses, and destroying government buildings." [7] All these claims turned out to be false, but the panic and hysteria had already spread.
– Syrian state TV broadcast pictures of Armenian women who it claimed were killed in the Kasab 'massacre'. They were later found to be alive. [8]
– Various websites and Facebook pages, such as the 'Save Kessab' page, disseminated pictures of a Christian church and claimed it was destroyed by the 'Islamist terrorists' who entered Kasab. [9] The images turned out to be from al-Raqqa and Yabroud.
– They also disseminated video footage of massacres that happened elsewhere and in different contexts. The most famous was a video from January 2014 showing 10 captive regime troops being executed by Jabhat Al-Nusra in Aleppo. [10] Again, it had nothing to do with Kasab.
– A graphic image of a woman with a crucifix stuck down her throat, which was circulated as an example of the horrific crimes being committed in Kasab, turned out to be a scene from a Canadian horror film called 'Inner Depravity'. [11]
For more examples, see these two excellent collections debunking the propaganda and lies about Kasab:
– http://the-assad-debunkation.tumblr.com/post/81317668782/the-savekessab-hoax-propaganda-pandemic-debunked
– http://nshakfeh.wordpress.com/2014/03/30/the_facts_about_kassab/
Kim Kardashian's tweets
Despite being debunked and refuted by various observers and commentators, these and other false allegations formed the basis of a popular campaign using the hash tag #SaveKessab. [13] Many Armenian Diaspora organisations, especially in Europe and the US, jumped on board without really considering the wider context of the war in Syria.
The campaign soon drew global attention when a few celebrities started to tweet about it. The most notable among these was Armenian-American model and reality TV star Kim Kardashian. On 30 March 2014, she tweeted to her 20 million followers: "Please let's not let history repeat itself!!!!!! Let's get this trending!!!! #SaveKessab #ArmenianGenocide". [14]
This and other similar messages by popular celebrities – who mostly did not know anything about Kasab or Syria – gave the campaign a massive push and legitimacy. Kardashian's use of the two hash tags #SaveKessab and #ArmenianGenocide side by side was also another example of how historical and current events were conflated in order to invoke the deep traumatic memories of the Armenian genocide and utilise them in the Syrian propaganda war.

Beyond social media
The social media campaign took a political turn when the Armenian National Committee of America (ANCA), and influential Armenian pressure group, asked the US government to pressure Turkey to stop "militant extremists stream into Kessab from Turkey." An Armenian parliamentary delegation also flew from Yerevan to Latakia to meet the Kasab evacuees. The delegation also met with Syrian dictator Bashar al-Assad and expressed their support for his "fight against foreign-backed terrorism." [15] The Armenian parliamentarians even expressed their "full support" for what the Syria regime is doing "to restore security and stability to the country" and voiced their confidence that Syria "will remain as always a model of co-existence and national unity." [16]
Russian Deputy Foreign Minister Gennady Gatilov gave the Syrian regime's propaganda a further push and called for an emergency Security Council meeting to discuss the "crimes committed by armed insurgent groups against the residents of Syrian Kassab". "An investigation should be conducted into the shooting on the Armenian residents of Kassab city by the gunmen," he demanded, never mind that no such shooting took place. [17]
The United Nations' secretary-general was "horrified by the gruesome images purporting executions in the Syrian town of Kassab", even though the UN was "unable to confirm the validity of these reported atrocities."
Back to the Armenian protest in Tehran, it was sad to see Armenian activists trying to capitalise on developments in Syria to advance their efforts to get the international community to recognise the Armenian genocide as such. It was even sadder to see Armenian protesters supporting theregime in Iran while denouncing Turkey: their slogans included "Turkish support for terrorist groups should be condemned" and "Islamic Republic, supporter of the oppressed". [19]
Armenian protesters seem to forget that Bashar al-Assad's regime, supported by Iran's supreme leader Ayatollah Khamenei and his foot soldiers Sepah Pasdaran, Hezbollah Lebanon and the Iraqi militias, have been systematically committing massacres, war crimes and crimes against humanity since the beginning of the revolution in March 2011. Naame Shaam would like to appeal to the Armenian communities around the world to revise their narrative and recognise who the real mass murderers in Syria are.
NOTES:
[1]
http://isna.ir/en/news/93012711140/Iranian-Armenians-protest-against-terrorist
[2] See, for example,
https://www.youtube.com/watch?v=q3D0aXsrqfo
,
http://asbarez.com/121345/hundreds-protest-turkeys-role-in-kessab-attacks/
and
http://www.liveleak.com/view?i=909_1396719728
. [3] See, for example,
http://www.gagrule.net/armenian-americans-blame-turkey-kassab-invasion/
. [4]
http://www.internationalpolicydigest.org/2014/04/01/armenian-insecurity-savekessab-campaign/
[5]
http://claysbeach.blogspot.fr/2014/04/how-savekessab-covers-assads-retreat-in.html
[6]
http://asbarez.com/121007/reports-cite-80-dead-in-kessab-churches-desecrated/
[7]
http://www.armenianweekly.com/2014/03/23/activist-rebels-robbing-homes-desecrating-churches-in-kessab/
[8]
https://twitter.com/MannfredNikolai/status/453943793016782848/photo/1
[9]
http://levantreport.com/2014/03/27/destroying-alcohol-and-churches-in-kassab-under-nato-watch-turkey-blocks-youtube-over-leaked-plans-for-possible-staged-incident/
[10]
https://www.youtube.com/watch?v=ZljM2NGR5II
[11]
http://english.alarabiya.net/en/News/middle-east/2014/04/07/Horror-movie-image-used-in-Syria-s-Kessab-war-hoax-.html
[12]
http://syria360.wordpress.com/2014/04/23/after-99-years-of-turkish-massacres-against-armenians-e
rdogan-repeats-his-grandparents-black-history/
[13] On Facebook:
https://www.facebook.com/hashtag/savekessab
and on Twitter:
https://twitter.com/search?q=%23SaveKessab
[14] For more on Kardashian and Kasab, as well as her previous history of supporting dictatorships, see
http://www.thedailybeast.com/articles/2014/03/31/kim-kardashian-butts-into-syria-s-online-civil-war-with-savekessab-campaign.html
and
http://www.vocativ.com/world/syria-world/kim-kardashian-latest-assad-punking-victim/
and
http://www.timesofisrael.com/kardashian-inadvertently-tweets-support-for-assad/
[15]
http://syriatimes.sy/index.php/news/local/12159-president-al-assad-meets-armenian-mps-warns-against-foreign-backed-terrorism
[16]
http://english.farsnews.com/newstext.aspx?nn=13930108000115
[17]
http://sana.sy/eng/21/2014/04/01/536525.htm
[18]
http://www.un.org/News/Press/docs/2014/sgsm15758.doc.htm
[19]
http://isna.ir/en/news/93012711140/Iranian-Armenians-protest-against-terrorist
FURTHER REAING on facts and propaganda concerning Kasab:
– http://eaworldview.com/2014/04/syria-happened-insurgents-captured-kessab-propaganda-reality/
– http://www.dailystar.com.lb/News/Middle-East/2014/Apr-05/252401-kasab-vs-kessab-and-propaganda-on-syrias-coast.ashx#axzz30BMKRaSa
– http://syrie.blog.lemonde.fr/2014/04/07/lepuration-ethnique-des-armeniens-en-syrie-dramatiser-pour-mieux-mobiliser/
– http://www.jadaliyya.com/pages/index/17442/#savekessab-
– http://www.vocativ.com/world/syria-world/kim-kardashian-latest-assad-punking-victim/
– http://claysbeach.blogspot.fr/2014/04/how-savekessab-covers-assads-retreat-in.html
Historical background about the Armenians of Kasab (and Syria more generally):
– http://www.opendemocracy.net/vicken-cheterian/syria-kessabs-battle-and-armenians-history
– http://neweasternpolitics.wordpress.com/2012/03/04/syrian-revolution-and-future-of-the-armenian-community-by-filor-nigoghosian/