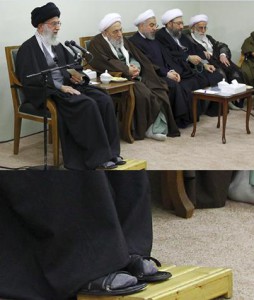 Should all Iranians follow Ayatollah Khamenei's example and wear worn-out sandals?
A major development has been unfolding in Iran at a worrying pace since the beginning of 2014 We keep reading and hearing about the deteriorating economy and the regime's inability to solve its financial problems. And officials keep warning us that things will only get worse; the most symbolic expression of this being Ayatollah Ali Khamenei allowing the publication of photographs of him wearing worn-out sandals.
Following the temporary nuclear deal with Western states at the end of 2013, the national currency somewhat stabilised and inflation halted, but only for a while. Things are turning downwards again now.
On 20 March 2014, the New York Times published an interesting article entitled "Hopes fade for surge in the economy." It said people in Iran had voted for President Hassan Rouhani in the hope of a revival of the country's ailing economy. "But more than six months after Mr. Rouhani took office," the article continues, "hopes of a quick economic recovery are fading, while economists say the government is running out of cash."
Other main points in the New York Times article:
– President Rouhani "inherited a failed economy due to the international sanctions and the mismanagement of his predecessor". Economists believe "the Iranian government will be running out of cash very soon".
– Rouhani "discovered that the government's finances were in far worse condition than his predecessor, Mahmoud Ahmadinejad, had ever let on. Now, with a lack of petrodollars and declining tax revenues, Mr. Rouhani has little option but to take steps that in the short-run will only increase the pain for the voters who put him into office."
– Since the start of the Iranian New Year, the regime started phasing out energy subsidies. This is expected to send the prices of gasoline, electricity and other utilities "soaring by nearly 90 percent".
– The shortage of funds is also "forcing the government to wind down a system of $12 monthly payments to nearly 60 million Iranians, with only the poorest eligible to reapply".
– Iran's stock market, "which rode high on optimism injected by the new government and the temporary nuclear deal", has been "in decline, losing 14 percent since its peak in December". The Rial, after months of stability, fell by about four percent against the dollar in February 2014, to just over 30,000 Rials to the dollar on the black market.
– The lack of cash "would not leave any option for the government but to take painful steps for the Iranian people: printing money and thus provoking a dramatic inflation and/or implementing major budgetary cuts."
And here is some more bad news:
– Iranian MP Mousareza Servati said on 6 March 2014 that 15 million Iranians (20 percent of the population) are living below the national poverty line; 7 million of them are not receiving assistance of any kind.
– A recent price list of basic food items published by BBC Persian in March 2014 shows that consumer prices in Iran have at least tripled in the last four or five years.
– Ahmad Tavakkoli, another Iranian MP, recently said the Islamic Republic is suffering from "a systematic economic corruption".
So where are we, Iranians, heading? Saeed Laylaz, an economist and an advisor to President Rouhani, was quoted by the New York Times saying Iran is heading to a "black spring" and only a "miracle" could save the Islamic Republic political damage caused by the economic problems. "I am worried we might witness turmoil," he added.
Meanwhile, President Rouhani and Ayatollah Khamenei seem to have adopted a mixture of budgetary cuts and printing more money. Inflation is therefore expected to remain high and people will only become poorer. The Iranian regime has promised to only reduce the inflation rate to 25 percent in 2015, from the current 32 percent and 42 percent in 2013.
Regime officials are clearly preparing us, Iranians, for endless inflation, more poverty and hardship. Here are three recent gems:
– Mr Ali Fallahian, a former intelligence minister – who is known as the person behind the killing of Iranian intellectuals in the 1990's – advised that, if the sanctions got harsher, "we will eat just once a day or fast".
– Mr Ali Saidi, Ayatollah Khamenei's representative within Sepah Pasdaran, said: "We are heading toward many challenges and sanctions, but we are not going to lose what we achieved with blood to obtain some bread. The people of Iran should prepare themselves for more suffering".
– In March 2014, Iranian state-controlled media published pictures of Ayatollah Khamenei wearing worn-out sandals, in a symbolic message that the Ayatollah is 'suffering' like poor Iranians and he expects everybody to do the same.
But there is still 'hope', at least according to Ayatollah Khamenei. Last March he designed a 'parallel economic plan' based mainly on 'self-sufficiency'. He poetically called it a "resistance economy". The country would mainly rely on itself, aiming to achieve near self-sufficiency in "strategic and primary items", he said. His hope is that the "resistance economy will lead to welfare and improving the condition of the life of all of the people, especially the poor".
A quick look at historical closed economies suffering chronic mismanagement, corruption, the dominance of ideology and monopoly (in Iran's case, Sepah Pasdaran controlling huge economic sectors) shows that such systems will only implode if they did not open up. Remember the Soviet Union and its 'satellite states'. Or look at the current state of the economies of North Korea and Cuba. Ayatollah Khamenei does not seem to be interested in the fact that we live in a globalised economy; that we need to export oil and import machines and technology to be able to extract it.
In this context, it may be helpful to remember that Ayatollah Khamenei controls a massive economic empire known as SETAD, or the Setad Ejraiye Farmane Hazrate Emam (Headquarters for Executing the Order of the Imam). This entity manages and sells properties 'abandoned' or expropriated mainly from members of the opposition. SETAD's holdings of real estate, corporate stakes and other assets are estimated to be worth about $95 billion, according to calculations by the Reuters news agency in November 2013.
Iranian officials can still save the nation by taking radical economic and political measures like full respect of human rights and truly free and fair elections without fear of brutal repression.
But the Islamic Republic clearly insist on wasting billions of Rials on a military nuclear program that they think will guarantee their staying in power. They also do not seem to be bothered about burning billions of Rials spent on helping Syria's dictator Bashar al-Assad destroy Syria and on financing Sepah Pasdaran, Hezbollah Lebanon and all the Iraqi militias that are helping him achieve this aim. And they definitely are not even considering to make Iran a true democracy.
At Naame Shaam, we believe that the dreams of an Iranian nuclear bomb as a 'life insurance' for the regime and its disastrous foreign policies, such as that implemented in Syria, will only lead to more international isolation and to more economic hardship for Iranians. Are Iranians really going to follow Ayatollah Khamenei's example and wear worn-out sandals, or will they rise up for more substantial change?
SOURCES:
– The New York Times article, 20.03.2014: http://www.nytimes.com/2014/03/21/world/middleeast/cut-in-energy-subsidies-iran.html?action=click&module=Search&region=searchResults%230&version=&url=http%3A%2F%2Fquery.nytimes.com%2Fsearch%2Fsitesearch%2F%3Faction%3Dclick%26region%3DMasthead%26pgtype%3DHomepage%26module%3DSearchSubmit%26contentCollection%3DHomepage%26t%3Dqry754%23%2Firan+economy&_r=0
– The BBC price list, 22.03.2014: http://www.bbc.co.uk/persian/business/2014/03/140322_food_iran_inflation.shtml?ocid=socialflow_facebook
– Quote of Mousareza Servati: http://farsnews.com/newstext.php?nn=13921214001320
– Quote Ali Fallahian: http://www.tasnimnews.com/Home/Single/323166
– Quote Ali Saidi: http://www.freezepage.com/1394891668YLQTNMXYNV
– Quote of Ahmad Tavakkoli:
http://farsnews.com/newstext.php?nn=13921218001123
– Pictures of Ayatollah Khamenei's sandals: http://farsi.khamenei.ir/photo-album?id=25683#202329
– Reuters investigation about the SETAD empire, November 2013:
In Farsi:
http://www.reuters.com/investigates/iran/images/part1/persian.pdf
http://www.reuters.com/investigates/iran/images/part2/persian.pdf
http://www.reuters.com/investigates/iran/images/part3/persian.pdf
In English:
http://www.reuters.com/investigates/iran/#article/part1
http://www.reuters.com/investigates/iran/#article/part2
http://www.reuters.com/investigates/iran/#article/part3