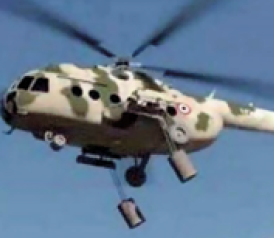 Contents of this section:
Illegal arms shipments
Assisting Syrian regime in its 'violent crackdown on protesters'
Stepping up military support
Made in Iran, used in Syria
Update on Iranian weapons used in Syria
Case study: Who's making the barrel bombs?
Case study: Did Sepah Qods play a role in the Ghouta chemical massacre?
Update on the use of barrel bombs and chemical weapons in Syria
Notes & References
4. Iranian weapons
In addition to footing the bill for Russian weapons, Iran has also been supplying the Syrian regime with Iranian weapons, ranging from rockets and missiles, rocket-propelled grenades and mortars, to drones and other military surveillance technology.
Illegal arms shipments
In May 2012, Reuters published an exclusive about a "confidential report", seen by the news agency, submitted by a panel of sanctions-monitoring experts to the UN Security Council.296 The report dealt with three illegal shipments of Iranian weapons over the previous year in violation of international sanctions against Iran. Two of these cases involved Syria, it said, "as were the majority of cases inspected by the Panel during its previous mandate." The third shipment involved rockets headed for Taliban fighters in Afghanistan.
The following month, the panel of experts published its report, providing details of two interception by the Turkish authorities of Iranian arms shipments bound for Syria.297 The first was in February 2011, a month before the outbreak of the Syrian revolution, when the Turkish authorities seized a truck carrying Iranian explosives. The contents of the truck were clearly described on the shipping documents: two boxes of gunpowder M9, two boxes of propelling charge, two boxes of slow-burning material, one box of detonators, six pallets of solid rocket fuel and two pallets of RDX explosives. The two companies named on the shipping documents, Parchin Chemical Industries and 7th of Tir Industries, are subordinates of the Iranian Defence Industries Organisation. Both had already been designated by UN sanctions. The contract referenced in the invoice had been concluded in 2006 for a series of 20 shipments.298 For some reason, Turkey did not report this interception to the UN until January 2012.
The second shipment was intercepted on 19 March 2011. Nineteen crates containing 74 assault rifles, machine guns, 2,000 mortar shells and nearly 8,000 rounds of ammunition were seized by the Turkish authorities from an Iranian cargo aircraft operated by Yas Air bound for Aleppo.299 The flight had "auto spare parts" on its cargo manifest. In March 2012, the US Treasury Department listed Yas Air, along with Behineh Trading and one Nigerian shipping agent, for "providing support" to Sepah Qods, including shipments of weapons to the Middle East and Africa.300 Two other Iranian airlines, Air Iran and Mahan Air, had already been designated by the department for providing the force with transportation, funds transfers, personnel travel services, as well as arms shipments.301 Both were also accused of transporting personnel, weapons and goods on behalf of Hezbollah Lebanon and omitting from their cargo manifests "secret weapons shipments bound for Hezbollah."302 All these companies, according to the Treasury, had used "deceptive measures" when shipping such items to Syria, using a combination of passenger and cargo flights and "declaring illicit cargo as humanitarian and other licit goods."303
Both shipments intercepted by Turkey were found by the UN panel of experts to be in breach of international sanctions against Iran. Paragraph 5 of Security Council Resolution 1747 (2007) prohibits Iran from exporting "arms and related materiel" and prohibits other states and individuals from procuring such items from Iran.304 Moreover, in previous inspections the panel had found only ammunition and no arms, whereas the current cases included "a greater diversity of items." The panel also observed that, previously, systematic attempts had been made by the Iranian regime to conceal illegal shipments through erased markings or packaging. These two shipments "reflected no such attempts," which is presumably why they were caught. In any case, the report concluded that Syria "continues to be the central party to illicit Iranian arms transfers" in breach of the sanctions. Surprisingly, Russia did not block the release of the report this time as it did the year before.305
Since both incidents predated the Syrian revolution, it is not easy to link them directly to the Syrian regime's brutal crackdown on the mass protests in Syria. Indeed, the shipments may well have been destined to Hezbollah Lebanon, Hamas or any other Iranian-backed militia via Syria.306 In January 2012, however, France's foreign ministry "condemned" Iran's "repeated violations" of the UN arms embargo by exporting weapons to Syria, citing the Panel of Experts' report.307 Senior US officials also told AFP news agency that Iran was supplying munitions to "aid Syria's bloody protest crackdown in an initiative spearheaded by the head of the Iranian Revolutionary Guards Corps' elite Qods force, Qassem Soleimani."308 The Iranian government denied the allegations, of course. The rest of this chapter will attempt to provide some evidence that the allegations were not unfounded.
Assisting the Syrian regime in its 'violent crackdown on protesters'
At this point, the Syrian revolution still largely revolved around mass peaceful protests that were being met by the regime with increasing brutality. It is likely therefore that Iranian military support to the Syrian regime – in addition to training and directing the regime forces and shabbiha, as detailed in previous sections – would have consisted mostly of crowd control weapons and surveillance equipment, which the Iranian regime used to crush the Green Movement protests in Iran in 2009.
As early as April 2011, barely a month after the outbreak of the mass protests, American officials disclosed intelligence, based on intercepted communications among Iranian officials, that the Iranian regime was supplying Syrian security services with equipment and technical knowledge for monitoring and disrupting different types of communications, including mobile phones, email, social media and so on.309
Iranian tear gas was allegedly used in Homs in July 2011.
In March 2012, the head of the US military's Central Command told the Senate during a hearing that, in addition to arms and scores of Sepah Qods trainers and Iranian intelligence agents, the Iranian regime had been providing Syrian security services with "electronic eavesdropping equipment to try and pick up where the opposition networks are."310 This reportedly included specialist mobile tracking equipment capable of intercepting satellite phones and other satellite broadcasting equipment.311 The Syrian regime had also obtained some surveillance technology from European suppliers, according to media reports.312
In June 2011, the European Union imposed sanctions against three top leaders of Sepah Pasdaran for their role in "providing equipment and support to help the Syria regime suppress protests in Syria."313 The three were the force's chief Mohammad Ali Jafari, the chief of Sepah Qods, Qassem Soleimani, and Sepah's deputy commander for intelligence, Hossein Taeb.
A few days later, in a sanctions designation targeting the Syrian Political Security Directorate and top Syrian regime officials, the US Treasury also designated Ismail Ahmadi Moqaddam, the chief of Iran's Law Enforcement Forces (LEF), and his deputy Ahmad Reza Radan.314 The reason, according to the department, was their role in providing "material support to the Syrian General Intelligence Directorate and dispatch[ing] personnel to Damascus in April to assist the Syrian government in suppressing the Syrian people." In April 2011, it added, Radan had travelled to Damascus, "where he met with Syrian security services and provided expertise to aid in the Syrian government's crackdown on the Syrian people."
The US Treasury had listed Radan in September 2010 and Moqaddam in June 2011 for their "complicity in serious human rights abuses in Iran since the June 2009 disputed presidential election."315 It had also already designated Sepah Qods and its senior commanders for providing support to the Syrian General Intelligence Directorate.
In February 2012, the US Treasury sanctioned the whole of the Iranian Ministry of Intelligence and Security (MOIS) for its role in perpetrating human rights abuses against the citizens of Iran as well as "providing support to the Syrian regime's violent repression of dissent in Syria."316 Like Sepah Qods and LEF, the department added, the MOIS had provided "substantial technical assistance" to the Syrian General Intelligence for the purpose of "assisting the Syrian regime in its violent crackdown on protesters."
As to what exactly this 'substantial' and 'material assistance' was, another US sanctions designation in September 2012 sheds some more light. The designation targeted Syria's Army Supply Bureau for providing support to Iran Electronics Industries (IEI), a subsidiary of the Iranian Ministry of Defense and Armed Forces Logistics (MODAFL) with which the Bureau has standing contracts. In its press release, the Treasury revealed that, in March 2012, IEI had prepared to send "two large shipments of communications equipment," including radio jammers, to Syria.317 The shipments were valued at more than two million US dollars and were apparently financed by the Central Bank of Syria. According to media reports, jamming equipment was used by the Syrian regime against anti-regime fighters at least in Aleppo.318 There had also been reports of Iranian-made tear gas used in Homs in 2011.319
Stepping up military support
As the revolution was gradually pushed towards militarisation and armed opposition groups started to achieve significant victories on the ground, the Iranian regime also stepped up its military support to the Assad regime to ensure its survival. In March 2013, Reuters published another exclusive report, citing Western officials and diplomats, claiming that Iran had "significantly stepped up" its military support to the Syrian regime in the previous months, describing it as a "crucial lifeline" to Bashar al-Assad.320 As with sending Lebanese and Iraqi militias to Syria, the increased military support to the Syrian regime suggested the war in Syria had entered a new phase in which the Iranian regime played a leading role. But there was one problem: a viable route.
By now, the Turkish government had totally given up on al-Assad's promises of 'reform' and was fully supportive of the rebels. Part of this was apparently a relentless campaign to stamp out Iranian arms smuggling via Turkish territory and airspace, which led Iran to begin using Iraqi territory and airspace instead. The diplomats cited by Reuters in the above-mentioned article made clear that the main delivery route for Iranian arms to Syria was now through Iraq. In another report from September 2012, Reuters quoted a Western intelligence report claiming Iranian planes were flying from Iran to Syria via Iraq "on an almost daily basis." They allegedly carried Sepah Pasdaran personnel and "tens of tons of weapons to arm the Syrian security forces and militias fighting against the rebels."321 The extent of such shipments is "far greater than has been publicly acknowledged," it added, "and much more systematic, thanks to an agreement between senior Iraqi and Iranian officials."
The intelligence report specifically mentions two Boeing 747 aircraft as being involved in Syria arms transfers: An Iran Air plane with the tail number EP-ICD and Mahan Air's EP-MNE. Both were indeed among 117 aircraft identified by the US Treasury Department in its sanctions designation in September 2012 as "blocked Iranian aircraft."322 In addition to the airlines named above, the EU and the US also added to their Iran sanctions lists the names of Iranian shipping and construction companies associated with Sepah Pasdaran and apparently used for shipping weapons to Syria and a number of African countries.
In August 2012, The Wall Street Journal quoted a founding member of Sepah Pasdaran, who now opposes the Iranian regime and lives in exile, saying Iran had also started moving military aid and cash to Syria "through Iranian companies in Iraq, such as a construction company owned by a former [Sepah] member now living in Iraq and a tour company servicing pilgrims to holy Shiite sites."323 A Syrian rebel fighter operating in Homs with Liwa al-Haq was quoted by Reuters in February 2014 saying opposition forces "knew of Iranian planes flying into Hama airport in central Syria to deliver weapons." Latakia's airport and port, as well as the port in Tartous, were also used to bring equipment, he added.324
It is worth nothing that, in addition to targeting companies, the US Treasury also sanctioned Ismail Qani, the deputy commander of Sepah Qods, whom the department described as being responsible for "financial oversight" of the force's arms shipments.325 Qani, as already mentioned, was the first senior Iranian official to admit a "physical" Iranian regime presence in Syria.
The former Iraqi government of Nouri al-Maliki, a close ally of the Iranian regime, was repeatedly accused of allowing Iranian aircraft to use Iraqi airspace to transport arms and troops to Syria. In response, the Iraqi authorities staged a number of theatrical inspections of Iranian aircraft flying through Iraq and allegedly found "no illegal item."326
In an interview with Al-Asharq Al-Awsat in July 2013, Iraqi foreign minister Hoshyar Zebari confirmed that the "random inspections" that started in September 2012 only found non-lethal materials (equipment, medicine and food) but added: "Honestly, these planes could be carrying other things, but we don't have the deterrents, air defense systems or military aircraft necessary to prevent arms trafficking."327
We told the Iranians, 'We don't want you to use your relationship with us to move any arms to others.'… Moreover, we told NATO two days ago, and before that the members of Security Council and a small group of Syrians the following: 'We refuse and condemn arms trafficking through our airspace and will officially inform Iran of that, but we cannot stop it… If you believe these flights contradict the Security Council decisions prohibiting arms from leaving Iran under the provisions of Chapter 7, I ask you, in the name of the government, to help us stop these flights in Iraqi airspace.'
American officials, citing "classified intelligence reports," claimed there was evidence of "collusion between Iranian and Iraqi officials on the inspections," accusing the latter of tipping off Iran as to when inspections would be conducted.328 In one instance, Qassem Soleimani is said to have ordered a flight to Syria to carry only humanitarian goods. The plane was asked to land in Iraq for inspection soon after, on 27 October 2012. In another instance, an Iranian flight ignored an Iraqi request to land, presumably because it did not want its cargo to be inspected.329
In addition to al-Maliki, media reports have specifically pointed the finger at then Iraqi Transport Minister Hadi al-Amiri, who belongs to the Badr Organisation, and Ammar al-Hakim, the leader of the Supreme Islamic Iraqi Council. Both are said to be close to Sepah Pasdaran and were accused of facilitating the transportation of fighters and weapons from Iran and Iraq into Syria.330 They are the ones, according to these reports, who are "protecting Iranian aircraft and tankers from inspection."
Developments in Syria and Iraq in summer 2014 (the expansion of Daesh and the subsequent US air strikes against Daesh) seem to have created a new obstacle for Iranian arms shipments to Syria via Iraq. Various Syrian and Lebanese sources have told the author of this report that Sepah Pasdaran commanders and weapons are now being flown to Beirut, where the airport's security is controlled by Hezbollah, and then transferred by air or land into Syria. We have not been able to verify these claims or obtain any more details. One thing is for sure, though: The Iranian regime's military support to the Syrian regime is becoming ever riskier and ever costlier.
Made in Iran, used in Syria
Judging by the intercepted shipments and the sanctions-monitoring reports, the kinds of weapons that the Iranian regime has been sending to Syria range from communications equipment and light arms (assault rifles, machine guns, explosives, detonators and mortar shells) to more advanced and strategic weapons such as shore-to-sea missiles, surface-to-surface ballistic missiles, and even unmanned aerial vehicles (UAVs).
Iranian tanks (T-72 Ural TURMS-T, T-72M1 TURMS-T, T-72AV 'T-82' TURMS-T), multiple rocket launchers (333mm Falaq-2 and IRAM), ballistic missiles (Fateh-110 or M-600) and even military jeeps and vans (Morattab Pazhan and Sahra) are all known to be in the possession of Syrian armed forces and Iran-backed militias fighting in Syria.331 The question is whether these Iranian weapons have actually been used by Syrian regime forces and militias against civilians and rebels and whether there is undeniable evidence of that. This is important to establish the Iranian regime's complicity in the war crimes and crimes against humanity committed by the Syrian regime and the militias fighting alongside it.
In addition to the above official and media reports, other evidence of Iranian weapons being used in Syria includes photographs and videos published and analysed by a number of dedicated bloggers who have been following the events in Syria very closely.332 For instance, in May 2013, independent arms expert Eliot Higgins, blogging under the name of Brown Moses, reposted a video from 'Aqraba, Damascus, that provided "a very rare example of evidence" of accusations of Iran's exporting weapons to Syria in violation of the UN Security Council ban.333
The video 334 shows an unexploded 107mm rocket, typically launched by Type-63 multiple rocket launchers. After examining various variations of the rocket, Higgins concludes that the colours and the markings on this rocket "strongly indicate it was manufactured in Iran." Moreover, the date of manufacture, which can be clearly seen in screenshots taken from the video, is 2012. As he puts it, "it appears what we have here is an Iranian rocket manufactured in 2012, during the Syrian conflict, and the arms embargo, that has managed to find its way into Damascus." The unexploded rocket was found amidst a completely destroyed residential area. The destruction was presumably caused by similar rockets that did explode.
In another post a few days later,335 Brown Moses reposted another video 336 filmed by opposition fighters at a position they had just captured from Syrian regime forces. The video clearly shows the markings on a munitions box containing two 120mm mortar bombs, manufactured in 2012, with AZ111A2 fuzes. As Higgins points out, AZ111A2 fuzes are produced by the Iranian Defense Industries Organisation. The box is seen among many others, and a rebel fighter is heard saying: "they were using this ammunition to shell civilians over there," near the Tahmaz poultry farms in Hama.
Another Iranian weapon that has been used in Syria is the HS.50 anti-materiel sniper rifle, or rather, the unlicensed Iranian copy of it called Sayad-2.337 The Syrian armed forces were not known to possess these rifles before the start of the current war. Yet thousands of civilians have been killed in Syria over the past three years by snipers, many apparently using this Iranian rifle.
In a post from April 203, a specialist arms-monitoring blog called Oryxspioenkop said there were "two theories" to explain how these sniper rifles could have ended up in Syria.338 The first is through Hezbollah Lebanon, which is "a known operator of the HS.50." The other "and most likely theory" is that the weapons were delivered to Syria directly. The Sayad-2, the blogger adds, is likely to have been included in the above-mentioned Iranian arms shipments. It is also worth noting that most of these rifles have been seen not with regular Syrian troops but with Lebanese and Iraqi pro-Assad militias, as well as local Syrian militias 'protecting' their neighbourhoods.339
The most fatal Iranian weapons used in Syria have perhaps been the unguided artillery rockets, often mounted on converted Mercedes trucks. The Syrian army is known to have used Fajr and Falaq missiles, both the single tube and the double tube versions.340 In February 2014, the director of Armament Research Services confirmed to Reuters that Iranian-made Falaq-1 and Falaq-2 rocket launchers had been sent from Iran to Syria.341 "While they have been around for a while," he added, "we have seen an increase in [their] use of late." Indeed, there have been a number of videos and photos of Falaq and Fajr rockets being fired by regime forces in Syria, especially in the Ghouta suburbs near Damascus.342
Then there are the short-range ballistic missiles (Zelzal, Fateh, etc.). Fateh-110, which is also known under its Syrian designations M-600 and Tishreen, was filmed in action at least once. Leaked footage of a Fateh-110 missile being launched by Syrian regime forces in the Qalamon region was posted on YouTube in March 2013.343
Needless to say, it is not just the missiles themselves that the Iranian regime has been shipping to Syria but also the know-how. In August 2012, for example, Iranian media reported that 13 commanders from Sepah Pasdaran's missiles unit went to Syria to train their Syrian counterparts.344 The team was reportedly headed by Hassan Moqaddam.
The determination of the Iranian regime to do everything it can to support Bashar al-Assad's regime is perhaps best exemplified by sending its latest unmanned aerial vehicles (UAVs or drones) to Syria. In April 2014, footage of the Shahed 129 UAV flying over Eastern Ghouta, Damascus, was posted on YouTube.345 The Shahed 129 was unveiled in Iran in late 2012 and entered mass production in September 2013 for the Aerospace Force of the Iranian army.
According to Oryx, the Shahed 129 flying over Ghouta is a modified version of the original Shahed 129, "possibly of the third batch manufactured."346 The authors say improvements include a retractable landing gear and the ability to carry weapons (up to eight guided missiles). The drone seen in the video is not provided with missiles but this does not exclude the possibility that others are or will be. In November 2013, another new Iranian drone, known as The Yasir, was also spotted in Syria.347 The Yasir is apparently based on the American-made Scan Eagle, of which at least one has been captured by Iran.
Iranian drones were first spotted in Syrian skies in early 2012.348 But sending its latest drones to Syria is a sign not only of the length to which the Iranian regime is prepared to go to defend Bashar al-Assad's regime but also that it may be using Syria as a testing ground for its latest military technology.
Update on Iranian weapons used in Syria
In a press conference with Russian media in March 2015, Syrian president Bashar al-Assad confirmed that his forces continued to receive arms and other military equipment from Russia. "There were Russian contracts with Syria signed before the crisis which started to be implemented after the beginning of the crisis," he said. "There are also other new contracts," he added, "concerning weapons and military cooperation signed during the crisis and their implementation is ongoing. The nature of these contracts has of course changed given the nature of the battles conducted by the Syrian armed forces in facing the terrorists."1
While al-Assad did not mention Iran, there is no doubt that Iranian arms shipments to Syria – as well as to Hezbollah Lebanon via Syria – have also continued throughout 2014 and 2015, despite international sanctions on Iran and Syria and despite losing control over all of Syria's border crossings to the Free Syrian Army or to Daesh. Nor is there doubt that the nature of the Iranian military assistance to al-Assad's regime has changed over the past few years "given the changing nature of the battles conducted by the Syrian armed forces in facing the terrorists," to use al-Assad's words. The continuation of these arms shipments is evident, for example, from the repeated Israeli air strikes on strategic arms depots on Syrian soil or Iranian arms shipments destined to Hezbollah in Lebanon.2
As mentioned above, the Iranian regime has supplied Syrian regime forces and militias with sniper rifles (Sayyad, an Iranian replica of the Austrian-built Steyr HS.50), tanks (modified T-72S Russian tanks), anti-tank weapons (M40 recoilless rifles and the Saeghe-2 and Toophan anti-tank guided weapons), jeeps equipped with multiple rocket launchers (Safir), multiple rocket launch systems (Fajr-3, Fajr-5, Ra'd and Falaq-2) and even ballistic missiles (Fateh-110, Zelzal-2, Zelzal-3 and Shahab-2).3
Since the publication of the first edition of this report in November 2014, more evidence has emerged of Iranian-made weapons being used in Syria. There is also evidence of new types of Iranian weapons being used in the ongoing war there.
For instance, in March 2015, independent arms expert Eliot Higgins, blogging under the name of Bellingcat, revealed that Iran had delivered 10 restored and modified Sukhoi-22 fighter-bombers to Syria onboard Ilyushin Il-76 planes.4 Iran's Su-22 fleet had become part of Sepah Pasdaran's aerospace wing instead of Iran's Air Force, and the delivery was made "on the direct order of Khamenei," the report adds. Higgins also claims that at least six Iranian pilots were trained to fly the Su-22s in Syria and were sent to Belarus for further training.
About two years before, in February 2013, a Jordanian website reported that Iran had supplied the Syrian regime with 32 Sukhoi-22 aircraft it had obtained from Iraq many years ago, in addition to helicopters and military transport aircraft.5 Neither of the reports could be independently verified by the author of this report.
The Syrian army's fleet of MiG and Sukhoi fighter jets have been at the forefront of the aerial bombing campaigns against rebel and civilian areas across Syria. Su-22s have been used to drop unguided munition, such as barrel bombs, as well as cluster and incendiary bombs.6 However, the prolonged war seems to have exhausted the Syrian air force, whose MiG and Sukhoi aircraft are reportedly grounded for weeks at a time for maintenance. Many have also been shot down by rebels using man-portable air-defense systems (MANPADS).7
The new Iranian fighter-bombers would therefore compensate for these losses to some extent. One of the new Iranian Su-22s was spotted while bombing the town of Talbisah, near Homs, on 9 March 2015, according to Bellingcat's report.8 Talbisah, a rebel stronghold, has been repeatedly targeted by Syrian regime forces and militias since 2011.9
In addition to fighter jets, Iran is known to have supplied Syrian regime forces with different types of Iranian-made missiles, as mentioned above. In February 2015, the head of Sepah Pasdaran's Aerospace Force, Brigadier General Amir Ali Hajizadeh, admitted that Iran had "helped Iraq, Syria, Palestine and the Lebanese Hezbollah by exporting the technology that it has for the production of missiles and other equipment, and they can now stand against the Zionist regime, ISIS (Daesh) and other Takfiri groups and cripple them."10
In March 2015, Hajizadeh also announced that Iran was planning to replace its Fateh, Qiyam and Qadr missile series with a new generation of missiles.11 A few days before, Iran had unveiled new plans for producing a new long-range surface-to-surface cruise missile system called Somar.12 It had also already started mass-producing another series of long-range missiles called Sejjil. It is plausible that Syria is being used by Sepah Pasdaran's Aerospace Force to both use up its stock of old missiles and as a testing ground for new ones.
The same could be said about Iranian-made drones, which have been the subject of boasting by Iranian officials and military commanders in recent months.13 In April 2015, the specialist defence magazine Jane's Defence Weekly revealed that Sepah Pasdaran and Hezbollah had built a remote airstrip in the northern Bekaa Valley in Lebanon to fly Iranian-made drones over Syria.14 The strip is said to be around 10 miles west of the Syrian border and was spotted on satellite images that have recently been made available by Google Earth. Sources in Hezbollah Lebanon confirmed to the magazine that the group was using drones to back its operations against rebel forces in Syria, particularly in the Qalamon region.
Another Iranian weapon that has terrorised civilians and rebels alike across Syria is Iranian-made sniper rifles.15 As mentioned above, an Iranian copy of the HS.50 Australian anti-materiel sniper rifle, called Sayyad-2, has been used extensively in Syria. A new Iranian 14.5mm anti-materiel sniper rifle called Shaher has emerged since then.16 The new rifle is capable of penetrating concrete strongholds and armored vehicles, with an effective range of 4km. Both sniper rifles have been seen in different parts of Syria and some appear to have fallen into the hands of opposition forces.17
As to how these Iranian weapons have made their way into Syria, most now appear to be transported by Sepah Qods by air and sea since the Syrian regime lost control over all of Syria's land border crossings to the Free Syrian Army or Daesh, making all previously used land routes inviable.18 Media reports have also claimed that Russia has been helping Iran deliver weapons into Syria. Western intelligence sources told Fox News in late October 2015 that Russian cargo planes transported Iranian weapons to Syria twice a day.19 Many Syrian military airports in regime-held areas are now reportedly under Iranian control.20
For instance, a report from April 2015 claims that the Dab'a military airport, south of Homs, is now "under complete Iranian control."21 The former commander of one of the Free Army brigades in Homs is quoted in the report saying the airport is "one of the most important airports for Bashar al-Assad's regime" because Iranian airplanes carrying food and military supplies frequently land there, and because the airport is located near more than one motorway used by Iranian and Syrian regime forces and militias. The airport itself is guarded by Iranian forces, according to the report, while the task of protecting the surrounding area has been assigned to Hezbollah Lebanon. Even Syrian regime forces and militias are not allowed to go near it, the source adds.
Unlike their counterparts in Idlib, armed rebel groups in the Homs area do not possess anti-aircraft weaponry. Thus, despite repeated American promises of providing such weapons to moderate Syrian rebels, and despite international sanctions on Iranian arms exports and US war planes filling Syrian skies to target Daesh, Iranian weapons continue to pour into Syria and continue to be used by Syrian regime forces and Iranian-controlled militias to commit war crimes and crimes against humanity. Indeed, the Iranian regime seems to be largely unaffected by the sanctions as far as its arms exports to Syria and Hezbollah Lebanon are concerned. In the words of Brigadier-General Amir Ali Hajizadeh, "Sanctions have no bearing on the process of Iran's defense programs. The host of products we have received for the country's defensive purposes have been achieved under the sanctions that the enemies described as tough and stinging."22
Footnotes:
1 'President al-Assad: The West has not changed policy, intervention in terrorists' favor must stop for a solution to succeed', SANA, 27 March 2015.
2 See, for example, this Israeli strike on locations near Damascus on 7 December 2014. See also here. And this one in al-Qalamon region on 24 April 2015.
3 For a list of weapons possessed by Syrian regime forces, see here. See also this France 24 article, and this blog by Bellingcat.
4 'Iranian fighter-bombers operating in Syria', Bellingcat, 16 March 2015.
5 'Iran supplies Syria with 32 Sukhoi aircraft that belong to Iraq' (in Arabic), Al-Sawsana, 13 February 2013.
6 See, for example, this strike on the eastern countryside of Damascus in January 2013; and this one on the Zawiya mountain near Idlib in April 2015. See also this video about MIG-23s and SU-22s in action; and this report by the Syrian Violations Documentation Center.
7 The first Su-22 was reportedly shot down by rebel forces on 14 February 2013. Several others have been shot down since then. See, for example, here and here.
8 The video showing the aircraft is available on YouTube.
9 See, for example, this massacre in September 2014.
10 'IRGC Commander: Syria, Iraq, Palestine, Hezbollah Aided by Iran's Missile Technology', Fars News, 2 February 2015.
11 'Iran Plans to Replace Missile Arsenal', Fars News, 14 Matrch 2015.
12 Ibid.
13 On new developments in Iran's drones technology, see these Iranian media reports: Fars News; Tasnim News; Fars News; Press TV; ISNA; Fars News; Sputnik.
14 'Hizbullah airstrip revealed', IHS Jane's Defence Weekly, 23 April 2015.
15 See, for example, this report by the Syrian Network for Human Rights.
17 See here.
18 See, for example, here and here.
19 See here.
20 For an overview of military airports used by Syrian regime forces, see, for example, 'Where do Assad's planes take off from?' (in Arabic), Siraj Press, 7 April 2015.
21 'Iran completely controls one of the most important airports in central Syria and turns adjacent land into hashish farms' (in Arabic), Al-Souria Net, 22 April 2015.
22 'Iran's Defense Projects Unaffected by Sanctions: Commander', Tasnim News, 8 March 2015.
Case study: Who's making the barrel bombs?
Barrel bombs are highly explosive, unguided bombs, which are cheaply produced using large oil drums, gas cylinders or water tanks filled with high explosives and scrap metal to enhance their destructive capacity. They are then dropped from helicopters without any guiding system to kill and destroy indiscriminately. They have nonetheless been extensively used by the Syrian regime forces over the last two years, despite a Security Council resolution in February 2014 ordering all parties to end the use of barrel bombs and other indiscriminate weapons in populated areas. More than 60 per cent of old Aleppo has been completely destroyed by barrel bombs, for example.349
In July 2014, Syrian opposition media published what they claimed was an outline of one of the biggest and most controversial arms factories in Syria, near al-Sfeira in Aleppo, leaked by an engineer who worked there.350 The factory reportedly manufactures large quantities of barrel bombs, ground-to-ground missiles, mortars and other types of weapons commonly used by Syrian regime forces.
Significantly, the engineer claimed that there are "four separate administrations competing with one another within the factory." One of them is Iranian, he said, which is allegedly responsible for importing explosives and metals used to make shells, before sending them off to the "Chinese ovens." The factory, according to the whistleblower, is overseen by the Syrian Air Force Intelligence, which submits regular reports to the Presidential Palace and coordinates with the Iranian and Chinese experts.
The report corroborates other reports about the al-Sfeira factory being run with Iranian and Chinese assistance.351 Moreover, barrel bombs loaded with toxic chemicals, such as chlorine, have been used by Syrian regime forces on civilian areas, such as Kafar Zeita near Hama.352 Iran has been accused of supplying the Syrian regime with Chinese-made chlorine gas canisters, of which it recently placed an order of 10,000 canisters, according to media reports.353
If the engineer's account of the Sfeira factory is true, then Iranian military experts and their commanders in Sepah Pasdaran may have been knowingly and willingly participating in one of the clearest and best documented types of war crimes committed in Syria, especially in Aleppo.
Case study: Did Sepah Qods play a role in the Ghouta chemical massacre?
On 21 August 2013, several opposition-controlled areas in the Ghouta suburbs of Damascus were hit by rockets containing the chemical agent sarin, killing hundreds of civilians, including many women and children.354
Apart from a few Syrian, Iranian and Russian propaganda outlets, and a few western journalists and commentators who fell for their propaganda,355 most serious observers around the world today agree that it was Syrian regime forces who committed the massacre, which the UN has described as a war crime.
Very few reports, however, have examined the possible role of the Iranian regime in this and other chemical massacres committed in Syria over the past two years.356 In August 2014, on the first anniversary of the Ghouta massacre, Naame Shaam published a six-page report summarising various pieces of evidence that strongly suggest Sepah Qods may have played a role in the attack, calling for international investigations into the massacre to examine the possible complicity of the Iranian regime, particularly Gen. Qassem Solemani.357
The evidence was divided into three parts. The first dealt with the question of whether the Iranian regime was aware of the plan to carry out the attack. After discussing various relevant pieces of evidence, the report concluded that it was highly unlikely that the Ghouta chemical attack was the result of Bashar al-Assad's "losing his nerves," as a German report had claimed. It was also unlikely, the report added, that the Iranian and Russian leaderships were unaware of such plans, as other media reports had suggested, citing other evidence that suggests the opposite.
Even if we were to believe that the Iranian government or political leadership were not aware of the Syrian regime's plans to use chemical weapons against rebels, the report cites other evidence that strongly suggests Sepah Pasdaran was fully aware of such plans, and may have even been part of drawing them up. This includes intelligence reports that Iranian officers believed to be members of Sepah Pasdaran were present at chemical weapons tests in Syria; the testimony of the former head of Syria's chemical weapons arsenal, who defected in 2012, claiming that members of Sepah Pasdaran attended "numerous meetings" with their Syrian counterparts to discuss the use of chemical weapons; and communications between Sepah Qods and the Syrian leadership intercepted by US intelligence services in which the former "urged" the latter to "use its supplies of toxic Sarin gas against rebels and the civilians supporting them in the besieged city of Homs."358
A thorough investigation by a specialist and independent team, Naame Shaam suggested, should be able to put together these and other pieces of evidence to establish whether Sepah Pasdaran had prior knowledge of the Ghouta attack and whether it had indeed advised and trained Syrian regime troops to use sarin and other chemical weapons. It should also not be very difficult for such a team to establish which Syrian military units carried out the attack (the 155th Missile Brigade, the 4th Armoured Division, etc.) and whether they had been liaising with Sepah Pasdaran 'advisors', as evidence suggests they have been.
The second type of evidence is to do with whether Iranian weapons were used in the attack. In addition to all the evidence detailed above of Iranian weapons being used in Syria, there have been a couple of reports specifically suggesting that the rockets used in the Ghouta attack may have been Iranian ones.
In December 2013, a study analysing rockets linked to the Ghouta attack concluded that they were "most likely" fired by multiple launchers and had a range of about 3 kilometres. Moreover, the analysis suggested that the rockets were propelled by motors taken from a common family of 122-millimetre conventional artillery rockets known as the BM-21. The BM-21 line is a globally abundant system of ground-to-ground rockets, widely known as Grads, which originated in the Soviet Union but have been reproduced and updated by many countries, including Russia, China, Egypt and Iran.359
A few months before, another independent analysis of videos and pictures of the munitions claimed to have been used to deliver the chemical agents in the Ghouta attack concluded that it was "likely a non-standard munition produced in Iran or Syria, not widely used or manufactured, but likely not an 'improvised' munition." It also concluded that it was "a tube-launched munition, fired from an Iranian Falaq-2 type launcher or derivative or copy."360
Finally, the Naame Shaam report raised a question about the possible role of Sepah-controlled Iraqi militias, particularly Kata'eb Sayyid al-Shuhadaa, that were present in the area during and in the immediate aftermath of the attack, according to some reports. Their task was reportedly to "guard" the besieged areas held by rebels to prevent people from fleeing. Clashes between the two sides were reported over the few following days and Sayyid al-Shuhadaa held funerals for a number of its fighters who were killed there. The area was also heavily bombarded by regime forces, perhaps to destroy evidence of the chemical attack, as a number of observers have suggested.
The relevant question here is whether this Sepah-controlled militias' presence in the area was pre-planned in connection to the chemical attack or was just part of wider military operations in the area. It should not be difficult for an international investigation to establish this.
Update on the use of barrel bombs and chemical weapons in Syria
Despite several UN Security Council resolutions condemning their use and threatening to take action under Chapter VII of the UN Charter, the use of barrel bombs and chemical weapons by Syrian regime forces continued unabated throughout 2014 and 2015.1
In February 2015, Human Rights Watch (HRW) released yet another report on the use of barrel bombs in defiance of UN resolutions.2 Based on witness statements, satellite imagery and video and photographic evidence, the report identified at least 450 distinct major damage sites in 10 towns and villages held by rebel groups in Daraa and over 1,000 in Aleppo between 22 February 2014 and 25 January 2015. The majority of the sites had damage signatures "strongly consistent with the detonation of large, air-dropped munitions, including improvised barrel and conventional bombs dropped by helicopters." The attacks "have had a devastating impact on civilians, killing or injuring thousands of people," the report added.
In May 2015, Amnesty International released a similar report focusing on Aleppo.3 Attacks using barrel bombs killed more than 3,000 civilians in the Aleppo governorate in 2014, and more than 11,000 in Syria since 2012, according to the report. "Horrendous war crimes and other abuses" are being committed in the city by government forces and armed opposition groups on a daily basis, the report added, concluding that some of the Syrian government's actions in Aleppo amounted to crimes against humanity.
The same is true of attacks using chemical agents, particularly chlorine. In a report released in August 2015, the Syrian Network for Human Rights documented 125 breaches by Syrian regime forces of the Security Council resolutions related to the use of chemical weapons in Syria.4
Chlorine was not part of the 2013 international deal, in the wake of the Gouta chemical massacre in August 2013. The deal then forced Syria to join the Organisation for the Prohibition of Chemical Weapons (OPCW) and hand over about 1,300 tons of its stock of chemical weapons and ingredients to avoid military action by the US. This was seemingly because Chlorine is a widely available substance used for many industrial and commercial purposes. But the omission has led to chlorine becoming the "chemical weapon of choice" in Syria.5 Even the UN-OPCW fact-finding mission on Syria's chemical weapons has reported that chlorine is repeatedly used in attacks on towns and villages across Syria.6
Moreover, the indirect, yet deadly effects of chlorine attacks in the long run have been largely overlooked by official and media reports. When chlorine burns in the wake of an explosion, it produces a highly toxic substance called dioxin. Dioxin is considered one of the most toxic substances known after plutonium. Naame Shaam was the first organisation to raise this issue in April 2014, as far as the author of this report is aware.7
Another absurdity characterising Syria's chemical weapons affair is that, until recently, the UN-OPCW mission was not mandated to reach conclusions about attributing responsibility for the use of chemical weapons in the country, only how, where and when they were used. This is despite abundant evidence that only Syrian regime forces are capable of using such weapons, and have indeed been doing so for over two years.
On 7 August 2015, the UN Security Council finally adopted a resolution establishing a Joint Investigative Mechanism between the UN and OPCW to identify perpetrators using chemical weapons in Syria, including the use of chlorine.8 The new mission was mandated to "identify to the greatest extent feasible individuals, entities, groups or governments perpetrating, organizing, sponsoring or otherwise involved in the use of chemicals as weapons in Syria." In September 2015, following delays caused by Russian objections, the Security Council finally gave the joint mission a green light to start its investigation to identify who is using chemical weapons in Syria.9
On 19 August 2015, Naame Shaam demanded that OPCW experts should sample all sites where chlorine bombs have been used in Syria to determine the degree of dioxin contamination in those areas. It also demanded that the new Joint Investigative Mechanism should examine the role played by Sepah Pasdaran in the use of chemical weapons in Syria, citing various pieces of evidence supporting its claim.10
It remains to be seen whether this resolution will be implemented more rigorously than previous ones and whether the new Joint Investigative Mechanism will have more teeth than the previous UN-OPCW mission. It also remains to be seen whether the Syrian regime and its backers will comply with the resolution. Previous experiences do not inspire much confidence. In May 2015, for instance, international inspectors found traces of sarin and VX nerve agent at a military research site in Syria that had not been declared to the OPCW. One western diplomat was quoted by Reuters saying: "This is a pretty strong indication they [the Syrian government] have been lying about what they did with sarin."11
Moreover, Tehran appears to be using back-channel diplomacy to try and shield Bashar al-Assad from international attempts to punish him for using chlorine and other chemical weapons against civilians, according to media reports.12 Such attempts may prove more fruitful now that Western relationships with Iran are being normalised following the US-Iranian nuclear deal reached in July 2015.13 By trying to shield al-Assad from responsibility, the Iranian regime is also trying to shield its own officials and commanders from charges of complicity in the war crimes and crimes against humanity committed in Syria, including chemical and barrel bomb attacks.
Footnotes:
1 Resolution 2118 (2013) condemned the killing of civilians resulting from chemical attacks and affirmed that the use of chemical weapons constituted a serious violation of the international law, stressing that those responsible for any use of chemical weapons must be held accountable. Resolution 2209 (215) condemned the use of chlorine as a weapon in Syria and threatened Chapter VII action in the event of non-compliance.
2 Human Rights Watch, Syria: New spate of barrel bomb attacks, 24 February 2015. See also this report.
3 Amnesty, Death everywhere': War crimes and human rights abuses in Aleppo, 4 May 2015.
4 Syrian Network for Human Rights, Toxic gases in Syria: Unlimited Security Council Breaches, August 2015.
5 See, for example, Mike Corder, 'Full circle: Chlorine now chemical weapon of choice in Syria', AP, 20 April 2015.
6 See the reports here.
7 See here.
8 See here.
9 See here.
10 See here.
11 Anthony Deutsch, 'Exclusive: Weapons inspectors find undeclared sarin and VX traces in Syria – diplomats', Reuters, 8 May 2015.
12 Colum Lynch, 'Iran is trying to shield Assad from chemical weapons condemnation', Foreign Policy, 4 February 2015.
13 For more on this, see here.
Notes & References
296 Louis Charbonneau, 'Exclusive: Iran flouts U.N. sanctions, sends arms to Syria: panel', Reuters, 17 May 2012.
297 UN Panel of Experts, Final report of the Panel of Experts established pursuant to resolution 1929 (2010), 12 June 2012.
298 Ibid.
299 Ibid.
300 US Treasury Department, 'Treasury targets Iranian arms shipments', 27 March 2012.
301 US Treasury Department, 'Treasury sanctions major Iranian commercial entities', 23 June 2011; US Treasury Department, 'Treasury designates Iranian commercial airline linked to Iran's support for terrorism', 12 October 2011.
302 Ibid.
303 US Treasury Department, 'Treasury designates Syrian entity, others involved in arms and communications procurement networks and identifies blocked Iranian aircraft', 19 September 2012.
304 For more details, see: UN Security Council's Iran Sanctions Committee, Implementation Assistance Notice: Conventional Arms and Related Materiel, (undated).
305 Louis Charbonneau, 'U.N. publishes report on Iran arms trade with Syria', Reuters, 29 June 2012.
306 Israeli air strikes on Syria have often claimed to be targeting such shipments. See, for example, Nicholas Blanford, 'Israeli strike indicates Syria, Hezbollah may have crossed its 'red line' (+video)', The Christian Science Monitor, 30 January 2013; Anne Barnard, 'Syria blames Israel for fiery attack in Damascus', New York Times, 5 May 2013.
307 'Statements made by the Ministry of Foreign [Affairs] and European Spokesperson', France in the United States, 16 January 16 2012.
308 'Iran rejects French charge it is sending arms to Syria', The Telegraph, 17 January 2012.
309 Adam Entous And Matthew Rosenberg, 'U.S. Says Iran Helps Crackdown in Syria', The Wall Street Journal, 14 April 2011. See also: Mark Hosenball, 'Iran helping Assad to put down protests: officials', Reuters, 23 March 2012.
310 Eric Schmitt and Robert f. Worth, 'With arms for Yemen rebels, Iran seeks wider Mideast role', The New York Times, 15 March 2012.
311 Hugh Macleod and Annasofie Flamand, 'Iran's support for Syrian regime raises questions of legality', Global Post, 18 September 2012.
312 Mark Hosenball, 'Iran helping Assad to put down protests: officials', idem.
313 'Council Implementing Regulation (EU) No. 611/2011', Official Journal of the European Union, 23 June 2011.
314 US Treasury Department, 'Treasury sanctions Syrian, Iranian security forces for involvement in Syrian crackdown', 29 June 2011.
315 Ibid.
316 US Treasury Department, 'Treasury designates Iranian Ministry of Intelligence and Security for human rights abuses and support for terrorism', 16 February 2012.
317 US Treasury Department, 'Treasury designates Syrian entity, others involved in arms and communications procurement networks and identifies blocked Iranian aircraft', 19 September 2012.
318 See for example, C. J. Chivers, 'Life with Syria's rebels in a cold and cunning war', The New York Times, 20 August 2012. See also: 'Syria conflict: UK to give extra £5m to opposition groups', BBC, 10 August 2012.
319 See, for example, this video. For more on the use of tear gas in Syria, see for example: 'Syria CS gas may have been made in the UK', Corporate Watch, 6 April 2011.
320 Louis Charbonneau, 'Exclusive: Iran steps up weapons lifeline to Assad', Reuters, 14 March 2013.
321 Louis Charbonneau, 'Exclusive: Western report – Iran ships arms, personnel to Syria via Iraq', Reuters, 19 September 2012.
322 US Treasury Department, 'Syria Designations; Syria Identifications; Non-proliferation Designations; Non-proliferation Identifications; Burma Designation Removals; Non-proliferation Designation Removals; Anti-Terrorism Designation Update', 19 September 2012.
323 Farnaz Fassihi, 'Iran Said to Send Troops to Bolster Syria', The Wall Street Journal, 27 August 2012.
324 Jonathan Saul and Parisa Hafezi, 'Iran boosts military support in Syria to bolster Assad', Reuters, 21 February 2014.
325 US Treasury Department, 'Treasury targets Iranian arms shipments', idem.
326 See, for example: 'Iraq inspects second Syrian-bound Iran flight, finds no illegal items', Press TV, 28 October 2012.
327 Michel Abu Najm, 'Iraqi Foreign Minister on the Syrian Crisis', Asharq al-Awsat, 16 Jul, 2013.
328 Michael R. Gordon, Eric Schmitt and Tim Arango, 'Flow of arms to Syria through Iraq persists, to U.S. dismay', The New York Times, 1 December 2012.
329 Ibid.
330 Saud Al-Sarhan, 'From Qusair to Yabrud: Shiite foreign fighters in Syria', Al-Monitor, 6 March 2014. See also: Moshreq Abbas, 'Flow of Iranian weapons to Syria undermines Iraqi sovereignty', Al-Monitor, 28 September 2012.
331 See, for example: 'Syrian fighting vehicles', Oryx Blog, 25 February 2013.
332 These include: Brown Moses; Rogue Adventurer; Spioenkop.
333 Brown Moses, 'Evidence of Iranian arms provided to Syria in the past 18 months', 20 May 2013.
334 Available on YouTube.
335 Brown Moses, 'More evidence of sanction busting Iranian munitions deliveries to Syria', 26 May 2013.
336 Available on YouTube.
337 Brown Moses, 'Anti-materiel rifles in Syria', 18 April 2013.
338 'Syria and her HS.50s', Oryx Blog, 27 April 2013.
339 Ibid. The blog provides many pictures of militiamen seen holding the rifle or using it in Syria. See also: Phillip Smyth, 'Khamenei's Cannon: .50 caliber anti-material rifles and Shia fighters in Syria', Jihadology, 24 December 2013.
340 For more details, see: 'Mercedes-Benz and Syria, a deadly combination', Oryx Blog, 2 September 2013.
341 Jonathan Saul and Parisa Hafezi, 'Iran boosts military support in Syria to bolster Assad', idem.
342 See, for example, this video and this one.
343 Available on YouTube. For more on Iranian missiles used in Syria, see: 'Mercedes-Benz and Syria, a deadly combination', idem.
344 'Syria welcomes 13 Sepah missile commanders + photos' (in Persian), Mashregh News, 12 August 2012.
345 See this video and this one.
346 'Iran deploying her newest drones to Syria: The Shahed 129', Oryx Blog, 10 April 2014.
347 'Iran deploying her newest drones to Syria: The Yasir UAV', Oryx Blog, 10 November 2013.
348 Mark Hosenball, 'Iran helping Assad to put down protests: officials', Reuters, 23 March 2012.
349 For more details, see for example: Human Rights Watch, 'Syria: Barrage of Barrel Bombs', 30 July 2014.
350 'Secrets and details of the largest arms factory in Syria' (in Arabic), All4Syria, 17 July 2014.
351 See, for example: 'Aleppo Missile Factory', NTI, 1 August 2010. See also: 'Iran aids Syria's CW programme', Janes Defense Weekly, 21 October 2005; 'Syria blast 'linked to chemical weapons': report', AFP, 19 September 2007; 'Syria has expanded chemical weapons supply with Iran's help, documents show', The Washington Post, 27 July 2012.
352 For more details on this, see: 'Reports confirm use of toxic gases by Syrian regime, again – Chlorine barrel bombs produce highly toxic dioxin', Naame Shaam, 19 April 2014.
353 Con Coughlin, 'All the evidence points to Iran supplying Syria with chlorine bombs', The Telegraph, 6 May 2014.
354 There have been a number of investigations and in-depth reports about the Ghouta chemical attack. For example: the UN report; Human Rights Watch's reports, this one and this one; the Violations Documentation Center's report; and the US government's assessment.
355 The most famous example of this was Seymour Hersh's articles in the London Review of Books in December 2013 and April 2014, which argued that the attack may have been committed by Jabhat al-Nusra with the help of the Turkish government. For more details on the whole affair, see this commentary by Naame Shaam. There have been numerous articles and commentaries debunking Hersh's misguided allegations: 1 | 2 | 3 | 4 | 5.
The other famous propaganda piece was a Mint Press 'investigation' in August 2013 claiming the attack was carried out by the rebels themselves with the help of Saudi Arabia. For a detailed debunking of the story, see this article by Nafeez Mosaddeq Ahmed.
356 About previous and subsequent chemical attacks, see these reports: 1 | 2 |  3 | 4.
357 'Evidence suggests Sepah Pasdaran may have played role in 2013 Ghouta chemical attack in Syria', Naame Shaam, 19 August 2014.
358 For references to all these reports, see ibid. See also: Jacob Campbell, 'Iran's Hand in Chemical Attacks by Assad's Syrian Regime', The Clarion Project, 12 May  2014.
359 C. J. Chivers, 'New study refines view of sarin attack in Syria', The New York Times, 28 December 2013.
360 N.R. Jenzen-Jones, 'Alleged CW munitions in Syria fired from Iranian Falaq-2 type launcher', The Rogue Adventurer, 29 August 2013. For a collection of articles and blogs analysing munitions linked alleged chemical attacks in Syria, see this post by Brown Moses.