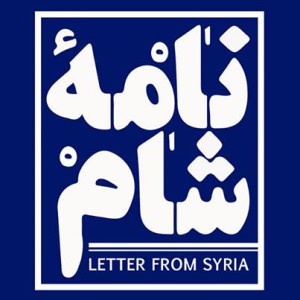 Naame Shaam was among a group of Iranian, Arab and Western activists and groups who published an open letter in the Guardian newspaper on 26 June 2014, criticising the British government's decision to reestablish diplomatic ties with the Iranian regime. Below is the full text of the letter, along with the signatories.
Source: http://www.theguardian.com/world/2014/jun/26/beware-game-shadows-syria
Letters – Beware the game of shadows in Syria
The Guardian, Thursday 26 June 2014
As supporters of the Syrian people's struggle for freedom and democracy, we are concerned by the British government's decision to re-establish diplomatic relations with Iran in response to the crisis in Iraq.
There is a grave danger that the Iranian government will see this as a licence to extend its already substantial intervention in Syria in support of its client – the Assad regime – which could not have survived this long without Iranian support.
Thousands of troops from the Iranian Revolutionary Guards and the Basij militia are actively fighting in Syria on the regime's side, as are Iran's proxies, Hezbolah and the Iraqi Shia militias. To ally with Iran in order to combat ISIS is deeply ironic, since there is considerable evidence that the Syrian regime has been colluding with Isis: Assad's air force bombs civilians, schools, markets and hospitals without mercy but declined to attack Isis's massive headquarters in Raqqa until the Iraq crisis erupted.
The Syrian regime has been playing a game of shadows in which this covert collusion with the growth of Isis has been used to undermine the democratic opposition and strengthen its own claim to be a bulwark against "terrorism". To accept Iran – and by implication Bashar al-Assad – as allies in the fight against Isis is to fall for this deception.
SIGNED BY:

– Peter Tatchell, human rights campaigner
– Haytham Alhmawi, director of Rethink Rebuild Society
– Reem Al-Assil, activist
– Adam Barnett, journalist
– James Bloodworth, editor of Left Foot Forward
– Mark Boothroyd, International Socialist Network
– Sasha Crow, founder of Collateral Repair Project for Iraqi and Syrian Refugees
– Naomi Foyle, writer and coordinator of British Writers in Support of Palestine
– Christine Gilmore, Leeds Friends of Syria
– Bronwen Griffiths, writer and activist
– Juliette Harkin, associate tutor, University of East Anglia
– Robin Yassin Kassab, author and co-editor of Critical Muslim
– Tehmina Kazi, human rights activist
– Maryam Namazie, Fitnah – Movement for Women's Liberation and Equal Rights Now – organisation against women's discrimination in Iran
– Fariborz Pooya, Worker-communist party of Iran UK
– Mary Rizzo, activist, translator and blogger
– Christopher Roche, Bath Solidarity
– Naame Shaam, campaign group www.naameshaam.org
– Brian Slocock, political scientist and blogger on Syria
– David St Vincent, contributing writer and editor, National Geographic Books
– Luke Staunton, Merseyside Syria Solidarity Movement – UK