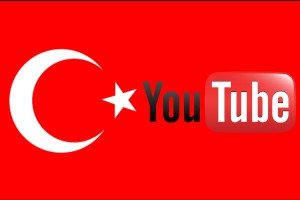 What would Iran block if details of its Syria war plots were revealed?
A week after banning Twitter, the Turkish government has now banned Youtube after a recording of a secret, high-level meeting, in which top officials discussed possible Syria war plans, was posted on the popular social networking site.
In the recording, the country's chief of intelligence, the foreign minister and a top military official are heard discussing possible plans for a military action in Syria during a recent meeting in Ankara. They even suggest orchestrating an attack on the tomb of Suleyman Shah, the grandfather of the founder of the Ottoman Empire – which is located in Syrian territory but is protected by Turkish soldiers – to create a justification for a military action. [1]
The embarrassing revelation follows a series of leaks in recent months in which many secret documents and phone conversations were posted on Twitter and Youtube revealing corruption at the highest level of the Turkish government, including Prime Minister Recep Tayyip Erdogan, his son and their inner circle.
As a result, the Turkish government has 'declared war' on social media platforms, and the internet more generally. [2] On Thursday, 24 March 2014, Mr Erdogan said: "Publishing these tapes, revealing details from a national security meeting, is villainous, dishonest." [3]
Does that ring a bell?
Last month an Iranian MP said revealing details of Iran's military support for the Syrian regime was "against national interests." Mansour Haghighatpour's comments were a reaction to revelations by another MP, Seyyed Mahmoud Nabavian, that Iran had trained some 150,000 Syrian regime fighters on Iranian soil, another 150,000 in Syria, in addition to 50,000 Hezbollah Lebanon fighters.
What 'national security' and 'national interests' are seem to depend on who's talking. What is certain is that the Iranian government, which already blocks social media sites such as Twitter, Facebook and Youtube in the country, would go to much greater lengths to try and hide it own Syria war plots – and there are probably many – even though the extent of its involvement in Syria is no longer a secret to anyone.
REFERENCE:
[1] For more details, see for example
http://www.reuters.com/article/2014/03/27/us-syria-crisis-turkey-idUSBREA2Q17420140327
http://www.nytimes.com/2014/03/28/world/europe/high-level-leaks-rattle-turkey-officials.html
[2]  http://www.businessweek.com/news/2014-03-22/turkey-blocks-google-s-dns-after-move-against-twitter-hurriyet
[3] http://www.reuters.com/article/2014/03/27/us-syria-crisis-turkey-idUSBREA2Q17420140327
[4] http://www.naameshaam.org/en/iranian-mp-revealing-details-of-irans-military-support-of-syrian-regime-against-national-interests/