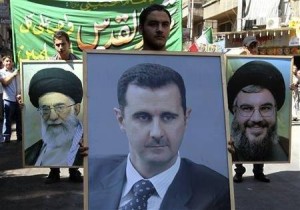 Iranian foreign minister Mohammad Javad Zarif denied on Friday that Iran had any role in sending Hezbollah Lebanon militants to fight in Syria. Speaking at the World Economic Forum in Davos, Switzerland, he said: "We are not sending people. Hezbollah has made its own decision."
Mr Zarif wants us to believe that Hezbollah Lebanon is an independent group and not one that was created, armed, trained, financed and directed by his government (Hezbollah Lebanon was conceived at the Iranian embassy in Damascus in 1982 to fight the Israeli forces that had invaded Lebanon that year, and has received up to $30 billion from Iran over the past 30 years).
Insiders who know the score disagree with Mr Zarif. For example, Sheikh Subhi al-Tufayli, who led Hezbollah Lebanon between 1989 and 1991, before he fell out with the group and Iran, told Reuters in an interview in 2013 that the decision to intervene in Syria had been entirely down to the Islamic Republic of Iran: "I was secretary general of the party and I know that the decision is Iranian, and the alternative would have been a confrontation with the Iranians… I know that the Lebanese in Hezbollah, and Sayyed Hassan Nasrallah more than anyone, are not convinced about this war." Another Lebanese security official told the news agency: "Even if Hezbollah has its wise men, the decision [to fight in Syria] is not theirs. The decision is for those who created and established it. They are obliged to follow Iran's orders."[1]
Moreover, Mr Zarif conveniently omits to mention the Iranian Sepah Qods fighters fighting in Syria.[2] Do they also make their own decision?!
COMMENT FROM THE EDITOR:
We don't know who to believe any more, Zarif or Rohani. Speaking at the same international forum in Davos, the first tells us the Syrian conflict "could be resolved within the next year," hoping the talks in Geneva "would bear fruit." Then we have President Rohani "expressing pessimism about fruitfulness of the ongoing International Geneva II Peace Conference on Syria," adding that the gathering "does not seem to be perfectly aware of the circumstances and realities of the Syrian crisis." Make up your mind, people!
Sources: AFP, Fars News
https://www.google.com/hostednews/afp/article/ALeqM5gyZgfREfF5FG4VM5sX0xTn3RptPA?hl=en
http://english.farsnews.com/newstext.aspx?nn=13921105000256
NOTES:
[1] http://www.reuters.com/article/2013/09/26/us-syria-hezbollah-special-report-idUSBRE98P0AI20130926
[2] There is now plenty of evidence of this. See, for example, this BBC documentary:
)