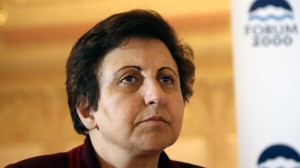 Shirin Ebadi:
I am ashamed of my country's intervention in Syria, where civilians are killed, and as an Iranian, I apologize to the Syrian people. The Iranian state intervenes in Syria despite the will of Iranian people.
The activist and lawyer, who won the Nobel Peace Prize in 2003, made the comments during an interview on 5 February 2014 with the Turkish Anadolu news agency:
http://www.aa.com.tr/en/s/284094–nobel-peace-prize-winner-slams-russia-for-protecting-assad
COMMENT FROM THE EDITOR:
It is encouraging to hear a famous Iranian criticising the government's role in Syria. Of course we should not forget that many who share similar sentiments cannot be as vocal because they live inside Iran, where the price of doing that may lead one to prison or even execution.