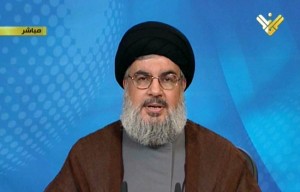 "As long as the reasons [to fight in Syria] remain, our presence there will remain." – Hasan Nasrallah, Ashoura speech, 14 November 2013
COMMENT FROM THE EDITOR:
Of course Mr Nasralla did not tell us what "the reasons" are. As usual, he keeps it vague and rhetorical. Is it to protect the interests of "the resistance", a holy war between the Shiaa and the Sunna or, more likely, his military and financial interests and orders from Damascus and Tehran?
Previously Mr Nasralla was adamant denying that Hezbollah was involved in battles inside Syria (following the Qusair battles near Hums, for example, in which Hezbollah played a crucial role in defeating the Free Army forces). At least now he admits that "Our fighters are present on Syrian soil."
Isn't it an insult to the whole history of Ashoura that Mr Nasralla would use his official speech to mark this holy anniversary to shamelessly defend his involvement in Syria, alongside a tyrant regime against people struggling for their rights and freedoms?
More about the speech: http://www.tehrantimes.com/component/content/article/112105