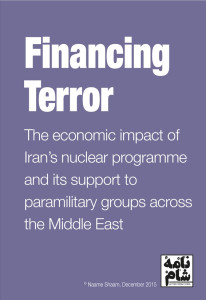 Financing Terror – Naame Shaam releases new report on Iran's support to paramilitary groups across the Middle East
Iran likely to increase 'aid' to Assad and Hezbollah following lifting of sanctions
Washington DC, 7 December 2015 – The campaign group Naame Shaam (1) today released a new report detailing the Iranian regime's lavish expenditure on financing terrorist activities and groups in Lebanon, Iraq, Syria, Palestine and Yemen, which has totaled up to US$ 80 billion since the 1980s.
The report, entitled "Financing Terror – The Economic Impact of Iran's Nuclear Programme and its Support to Paramilitary Groups across the Middle East",(2) details how Iran has been propping up the killing machine of the Assad regime since the outbreak of the Syrian revolution in March 2011 with US$ 3 billion to US$ 5 billion annually.
This 'aid' has contributed to the death of over 300,000 people, the displacement of more than seven million inside Syria and about four million to neighbouring countries.
Additionally, the Iranian regime has been providing Hezbollah Lebanon with US$ 100 million to US$ 200 million per year since the 1980s, not accounting for arms deliveries or special payments, such as rebuilding Shia areas in Lebanon after the 2006 war with Israel. Hezbollah is one of the main militias fighting in Syria on behalf of the Assad regime.
Shia militias in Iraq, many of which are also fighting in Syria, received US$ 10 million to US$ 35 million annually between mid- and late 2000s. This increased to an estimated US$ 100 million to US$ 200 million annually as of 2009.
Iran also provided the Palestinian Hamas with US$ 100 million to US$ 250 million between 2007 and 2011. The Palestinian Islamic Jihad received US$ 100 million to US$ 150 million annually since 2007. The Houthi militia in Yemen received US$ 10 million to US$ 25 million since 2010, partly in cash but mostly in the form of training and arms.(3)
Shiar Youssef, the head of Naame Shaam's Research and Advocacy team, said: "Following the nuclear deal signed with Iran in July 2015, the Iranian regime will have access to US$ 100-150 billion in 2016, in addition to new revenue from oil export. Some of this cash will be pumped into the country's ailing economy, but a lot of the fresh dollars will certainly be used to finance the Iranian regime's terrorist activities and destabilising policies in Syria and elsewhere in the Middle East."
"The Iranian regime has been spending billions of its limited resources, at the expense of Iranian people, to support its proxies in the Middle East and destabilise the region. Sepah Pasdaran (the Iranian Revolutionary Guards) will soon have much more money to splash on their disastrous adventures once international sanctions are lifted as part of the July 2015 nuclear deal. We expect the focus of Iran's financing of terror in 2016 to be Syria, Lebanon and Iraq," Youssef added.
The Naame Shaam report, which was released today at the Middle East Institute in Washington DC,(4) also looks into the costs of Iran's military nuclear programme. It estimates that Iran's only nuclear reactor at Bushehr has cost about US$ 11 billion. But this figure increases to an estimated US$ 100 billion when one takes into consideration the indirect costs, especially those caused by the international sanctions imposed on the country in relation to its military nuclear activities.
Moreover, the report argues that Iran's nuclear programme makes little economic sense when looking at the costs of energy production. Considering economic factors as well as the geography of Iran, a determined strategy to quit high-carbon and nuclear energy generation and invest in alternative, renewable energy sources seems to be more economically and environmentally viable for the country. In addition, the potential for attracting foreign investments when pursuing a renewable energy path may be more promising, according to the report.
Fouad Hamdan, Naame Shaam's Campaigns Director, said: "The US administration has promised that the nuclear deal will be fully implemented in 2016, or crippling economic sanctions against Iran will remain in place or will be reactivated."
"But what is President Barack Obama's strategy to counter the expected rise in the Iranian regime's financing of terror by the Assad regime, Hezbollah and the sectarian Shia militias in Iraq, Lebanon and Yemen, once US$ 100 to 150 billion of frozen Iranian assets are released?" Hamdan asked.
Meanwhile, death, destruction and sectarian cleansing on an unprecedented scale have become daily routine in Syria. The main culprits on the ground are the Iranian Revolutionary Guards and the militias they control – Hezbollah Lebanon and Iraqi and Afghan Shia militiamen – who have been carrying out all major military operations since mid-2013 on behalf of the Assad regime.(5) Since late September 2015, these militias have been supported by Russian airplanes, which have mainly been bombing Syrian rebels backed by the US and its allies. Daesh – the so-called Islamic State – is rarely targeted.
Naame Shaam calls on the US and its allies to treat the war in Syria as an international armed conflict that involves a foreign occupation by Iran and Russia on the one hand, and a liberation struggle by the Syrian people against this occupation on the other.
The US and its allies should also support referring the situation in Syria to the International Criminal Court (ICC) in The Hague to investigate all war crimes and crimes against humanity committed in Syria.
At the same time, Russia should be pressured with more economic sanctions and diplomatic isolation so that it disengages from Iran and becomes part of the solution in Syria, rather than being part of the problem.
President Obama should also fulfill his promises by arming and training enough moderate Syrian rebels, not only to fight Daesh and al-Qaeda-linked groups, but also Syrian and Iranian regime forces and militias. No-fly zones to protect civilians and allow humanitarian access throughout Syria should be enforced, in line with the international 'responsibility to protect' norm.
Hamdan concluded: "Whether we like it or not, only the US can prevent Syria and the Middle East from further disintegration and chaos. Only the US can lead a serious international coalition that can help Syrians build a democratic state where the rule of law prevails, and where there is no place for al-Assad and his supporters."
Notes for editors:
1. Naame Shaam is a group of Iranian, Syrian and Lebanese activists and citizen-journalists that focuses on uncovering the role of the Iranian regime in Syria. Naame Shaam means "Letter from Syria" in Persian. For more details about the group and its activities, see www.naameshaam.org.
Naame Shaam is supported by the Netherlands-based Rule of Law Foundation, www.lawrules.org.
2. Download the report in English
Press release in Arabic
Press release in Persian
3. The report "Financing Terror – The Economic Impact of Iran's Nuclear Programme and its Support to Paramilitary Groups across the Middle East" provides estimates of the Iranian regime's financing of:
– Hezbollah in Lebanon (since 1983);
– Shia militias in Iraq (since 2003);
– Hamas and the Islamic Jihad in the Gaza Strip (since 2007);
– the Houthi militia in Yemen (since 2010);
– the Assad regime forces and militias in Syria (since 2011).
The report also provides an overview of economic and political sanctions against Iran, an estimate of the impact of the nuclear programme and the related sanctions on the Iranian economy. It also briefly lays out arguments for an alternative energy scenario. The report focuses on a narrow set of questions and does not provide background information or detailed historical contexts on the conflicts in question.
The report was prepared for the Naame Shaam campaign by a European economic research institute that wishes to remain anonymous for security reasons.
Methodology and data limitations: Information on Iran's financial support to the five conflict areas in the above-mentioned specified periods was sought in government publications, publications by political research institutes and think tanks, scientific research papers, reputable international financial and political media, as well as national, regional and international media. Special attention was given to the competence, objectivity and accuracy of the selected sources.
Please note that there is very little precise data on the amount of support provided by the Iranian government or other Iranian institutions allegedly involved in providing funding to militant groups considered in this assignment, like Sepah Pasdaran. Due to the general scarceness of substantiated data on financial links and volumes, it was decided to also consider anecdotal evidence or sources which may be influenced by political views.
4. The Middle East Institute in Washington DC, www.mei.edu
5. In November 2014, Naame Shaam published an in-depth report titled "Iran in Syria: From an Ally of the Regime to an Occupying Force". The report provides numerous examples and case studies of human rights violations, war crimes and crimes against humanity committed in Syria by Iranian-controlled militias and forces. It also highlights ways of bringing possible lawsuits against Iranian regime officials, such as Gen. Qassem Soleimani, the head of Sepah Qods, the foreign arm of Sepah Pasdaran (Iranian Revolutionary Guards).
In May 2015, Naame Shaam published another report, "Silent Sectarian Cleansing: Iranian Role in Mass Demolitions and Population Transfers in Syria". The report accuses the Assad regime and its Iranian and Hezbollah Lebanon backers of systematic forced displacement of Syrian civilians and the destruction and appropriation of their property in certain parts of Syria, such as Damascus and Homs.