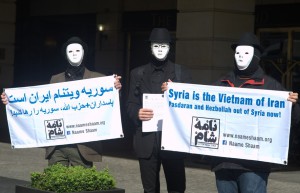 Protesters: "Syria is the Vietnam of Iran – Pasdaran and Hezbollah out of Syria now!"
Berlin/Tehran, 8 April 2014 – Activists from the Iranian group Naame Shaam today held a demonstration in Berlin against the Iranian regime's involvement in Syria. They demanded that the Iranian Revolutionary Guards (Sepah Pasdaran) and the Lebanese Hezbollah pull out all their fighters from the war-torn country immediately.
Wearing white masks in order to not be recognised, they held banners in Farsi, Arabic, German and English which read, "Syria is the Vietnam of Iran – Pasdaran and Hezbollah out of Syria now!" The banners carried the logo of Naame Shaam, a new Iranian campaign group and media project monitoring Iran's role in Syria (www.naameshaam.org).
The peaceful protest took place outside the hotel Westin Grand Berlin, where Mohammad Reza Nematzadeh, the Iranian Minister of Industry, Mines and Trade, along with other Iranian officials were attending a conference with German business representatives. The "Iranian-German Business Conference 2014" was organised by the German Near and Middle East Association (NUMOV).
Speaking from Tehran, Iranian citizen-journalist Sarah Yazdanian from Naame Shaam said: "German businesses and politicians must realise that by dealing with the Islamic Republic, a regime with such dark human rights record, they are indirectly supporting the murderous Syrian regime. They cannot just go about doing business as usual while Syrians are being killed and displaced by Bashar al-Assad's forces, Sepah Pasdaran and Hezbollah fighters and Iraqi militias. All of these groups are funded and controlled by the Iranian government with which Germany is planning to do business."
"How can Germany and other Western countries turn a blind eye to the Iranian involvement in Syria while criticising Russia's policies in the Ukraine?" she added. "How come that, when it comes to Iran, expanding business relations are not linked to regional stability, to democratic reforms and to protecting human rights in Iran?"
Ali Shirazi, another citizen-journalist from Naame Shaam, said from Tehran: "The Syrian regime would not survive 24 hours without the Iranian regime's support – both militarily and financially. Billions of Iranian Tomans, from the Iranian public purse, are being wasted on a senseless war to keep al-Assad in power, while ordinary Iranians are suffering economic hardship. Syria has indeed become Iran's Vietnam."
"On behalf of many Iranians," Shirazi added, "we appeal to Germany and other influential countries to put pressure on the Iranian regime to end its catastrophic involvement in the Syria war. We are indeed not against improving the economic relations between Iran and any other country, but we cannot ignore the fact that a big part of these economic gains will be wasted on enabling human rights abuses in Iran as well as war crimes and crimes against humanity in Syria."
Notes for editors:
Naame Shaam received a tip-off about the Berlin conference, so we asked some of our friends in Germany to organise a peaceful protest in our name. This is an opportunity to highlight the important issue of Iran's involvement in Syria, which Iranian officials would rather hide from German business representatives.
Naame Shaam (نامه شام), or "Letters from Syria", is a group of Iranian activists and citizen-journalists who inform Iranians about their government's policies and involvement in Syria. The project, which was launched earlier this year, focuses on monitoring and debunking the pro-Syrian regime propaganda coming from the Iranian government and its media, and on reporting and commenting on major events in Syria from an independent Iranian perspective, in both Farsi and English. There are no other Iranian media outlets that do this. For more details, see our website at http://www.naameshaam.org.
Videos and high-resolution photographs of the protest in Berlin can be downloaded and published for free at:
http://www.naameshaam.org/en/photos-and-video-of-naame-shaam-protest-in-berlin/
Please mention Naame Shaam as the source.
For further questions:
Please contact us via our Facebook page, https://www.facebook.com/pages/Naame-Shaam/438772749584524, or email us at [email protected]
Being based in Iran, unfortunately we cannot provide any further contact details or reveal our real identities due to security precautions.  Even our friends in the Arab region and elsewhere need to remain anonymous for security reasons for the time being. Thanks for your understanding.